Copyright © 1991 by Market Fact Finders, Inc.

All rights reserved. No part of this publication may be reproduced or transmitted in any form or by any means, electronic or mechanical, including but not limited to, photocopy, recording, or any other information storage and retrieval system, without the written permission of the publisher.

Printed in the

United States of America .

Compiled and Edited by: Arlo A. Auch

Order from:

Arlo A. Auch

2160 Day Rd

Maplewood, MN 55109

(651) 644-8144

ISBN 1-878023-00-4

Book Number__________Authorized by______________________

NOTE!

The following introduction is from the original printing of the book and therefore may be confusing if not understood in that light.

It is now on the internet and some things may not be transferred from the book to the website. Please be patient because we will continue to improve and update the information.

PURPOSE IN WRITING THIS BOOK

Please accept this book as it is. It was originally intended to be a "hard cover paperback book" but has developed into something much larger in that now it is available for everyone on the internet and can easily be changed without having to have the 1st, 2nd, 3rd, etc edition which everyone would have to pay for. It is undoubtedly filled with some mistakes, either because of wrong information obtained or wrong information entered into the computer. Also, the quality is not what I wanted but as you know, because not enough money came in to print it professionally, I had to compile it, print it on a copier, collate it and bind it myself. It was an enormous task. One I will never attempt again.

But now it is in electronic form and is far better than anything a hard cover book could ever be.

My purpose in writing this book was not to have a book with pictures to look at, although I had hoped to include some and now there are many more provided that photos are submitted to be included. But again because of the cost and the quality my copier produced I had to eliminate most of them in the initial offering. Hopefully someone will take it upon himself or herself to do a series of photos to be included in the book and now the internet at a later date. My purpose was to give as much history of our ancestors and to go back as far as possible with it. But my greater objective was to unite this family. Therefore, I have done what few family books have done and that is to include not just names but addresses, telephone numbers and now email addresses.. The purpose for this is so that we might learn to communicate with distant relatives by letters, visits and phone calls. So, if after looking through the book you find some distant relative in your community or area please contact them and say "Hi, Gruss Got, or Guten Tag", whichever comes easiest for you.

Just a few suggestions:

1. For more information on Gottlieb Auch's family (a cousin to Jacob, Christian, and Friedrich) please contact Mrs Gertrude Vannet, 1405-5th Ave. N.W, Minot , ND 58701 - (701) 839-1728.

2. I would encourage you to index your book with tabs on the side of the pages so as to divide the sections.

3. I would also encourage you to highlight the different generations (at least in your section) with a highlighter pen using different colors for each. (On the computer version of the "FAMILY TREE FILE" I have highlighted the different generations. This immediately shows your cousins, uncles, etc., that is if the information has been submitted and recorded.)

As you can see I have put a star by the second generation and a by the third generation. Do whatever you wish to make your copy more "user friendly".

A final thought before getting into the FAMILY HISTORY FILE itself:

In compiling this book, I have come to the conclusion that there are four (4) types of people:

1. THOSE THAT MAKE THINGS HAPPEN !

2. THOSE THAT WATCH THINGS HAPPEN !

3. THOSE THAT DON'T KNOW WHAT HAPPENED !

4. THOSE THAT CRITICIZE HOW IT HAPPENED !

Had I known that it would have been so difficult to write a book, in retrospect I would never have begun. After all of this work, I realize that there will be a number of people in category four(4). If you happen to be in this category, my suggestion to you is that you put together a better book or reunion and I will be the first in line with my $25.00 for the book and $11.00 for the reunion costs. In fact, I will gladly make a generous donation to the project and will support you all the way.

Thank you very much. Arlo A. Auch

AUCH FAMILY HISTORY

AUCH FAMILY CREST

This book is the story of the AUCH family. An attempt was made to present as much information about the origins and movements of this fascinating family group. However, it is primarily the story of three brothers, JACOB AUCH, CHRISTIAN AUCH, & FRIEDRICH AUCH, who immigrated to the

United States from Russia ( Ukraine ). From these three brothers, we, the people listed in this book, have descended. To them we are all deeply indebted and extremely thankful for the freedom we possess. It is to these three that this book is dedicated.

History of the Auch family / Origin of the name

History of the Auch's in Germany / Switzerland

History of the Auch's in Russia / Ukraine

History of the Auch's in the United States/Canada

Links and Maps of Germany

Links and Maps of Ukraine

Links and Maps of the United States/Canada

Ship Passenger Lists

Relationship Chart of Families

The Auch Homesteads in South and North Dakota

Notes and Guide to the Family Charts

Descendants of JACOB AUCH

Pictures of the Descendants of Jacob Auch

Descendants of CHRISTIAN AUCH

Pictures of the Descendants of Christian Auch

Descendants of FRIEDRICH Auch

Pictures of the Descendants of Friedrich Auch

"DWELL ON THE PAST AND LOSE AN EYE - FORGET THE PAST AND LOSE BOTH EYES" Old Russian Proverb.

"DAS ALTE STUERZT, ES AENDERT SICH DIE ZEIT, UND NEUES LEBEN BLUEHT AUS DEN RUINEN"! Johann Goethe

("THE OLD TUMBLES, THE TIMES CHANGE, AND NEW LIFE SPROUTS FROM THE RUINS".) English translation.

This publication is copyrighted. Unauthorized reproduction is prohibited and is a violation of applicable laws. No part of this book in excess of 250 words may be reproduced in any form without the permission of the author.

Growing up in South Dakota were pleasant years for me. I knew we were of German descent and I was proud of our heritage. However, it wasn't until I went into the Army and was stationed in Germany , that I really started to ask about our roots. I was told that our ancestors were from Eastern Germany , so I didn't pursue it any further. Had I known then that for three years, I was only seventy five miles from our ancestral home, I would have spent much time researching our family history there.

It wasn't until we returned to

Europe to live in Norway , that I found out that our ancestors were from the Baden Wurttemberg area. The area around Stuttgart , Germany . It was during this time that my parents and two of my aunts came to visit us and we made a tour through that area. It was then that we began to discover some Auch's and Schaeffer's in Germany that we thought might be related to us.

After returning home, I found out that my brother, Kenneth Auch, had joined the newly formed society known as the "American Historical Society of Germans from

Russia " (AHSGR). He, together with another gentleman, Gordon Auch from Eugene , Oregon , began to piece together the puzzle as to our family origin. It is they that I, and all of us, are indebted to for much of the progress made to date on putting the pieces together.

So, starting in 1979, I began researching and collecting information on the Auch family. It has become more and more interesting as the years have gone by and has since become a hobby. However, this last year of gathering the information and compiling it into book form has involved a lot of work and a great deal of patience.

The purpose of researching for the information and compiling the material into a history of our family name has been the work of love, and is intended to familiarize ourselves and preserve our part of the heritage of the "Black Sea Germans", or "Germans from Russia", as we are commonly called. Also, so that we and our future generations will have a record of their ancestry and can more readily answer questions relating to our genealogy.

This book was set up and put together by an amateur who has had no training or experience in this type of work. Therefore, errors in typing, incorrect grammar and weakness in good compositions are to be overlooked. Accuracy of data, or statistics and all other information was sought for and considered most important. Determining what information was correct sometimes was difficult. I apologize for any omissions or errors that may have been made on my part. The response to inquiries in some cases could have been more detailed and in others there must have been no interest at all. I do want to express my thanks to the many people who have contributed the information. Arlo Auch

THE AUCH'S - OUR FAMILY HISTORY

I. THE PAST (HISTORY OF OUR FAMILY)

A. ORIGIN OF THE AUCH NAME AND FAMILY

If you carry or have carried the name, AUCH, you have probably been called everything under the sun. Everything from "Ouch" to "Auk" has probably been used. At least if you are not in a German speaking community or area. Some of you were probably glad to get rid of it through marriage and others have changed it to AUCK to help the poor Englishman out. Then there are those of you who got stuck with it through marriage and the rest of us, being gluttons for punishment, have stuck with it and continually hear it being mutilated.

You've probably also wondered where the name came from. What was it's origin? Well only theories exist, but they are interesting to pursue. Obviously the name AUCH is German and means "also" or "too" and therefore used repeatedly in the German language. However, it is not a common name and is found primarily in the Stuttgart , (Baden-Wurttemburg) West Germany area and in the states of North and South Dakota . It has found its way into most of the other states in the United States and Canada as well.

Since most names in

Germany were taken from a persons occupation (such as Mueller being a miller of grain) or from their location (such as Gruenwald being from the Green Forest ), it is quite obvious that the name AUCH fits neither of them. Therefore it has been theorized that they came from another location to the Stuttgart , West Germany area.

The first mention of the name is found in the church records around Stuttgart in the village of Plattenhardt around 1381. But where did they come from prior to that. One theory has it that they came from the southern part of France . If you take out a map of France , you will find a small city by the name AUCH , FRANCE just north of the Pyrenees Mountains . It is pronounced " Osh ". It is the area where the Basque people come from and in Latin the word for Basque is Eusk from which the name AUCH derives. It is also the town in France where the story of the "Three Musketeers" originates. I don't know if there is any significance to this.

It is believed that some families moved from this part of France through Switzerland and into the Stuttgart area and took the name AUCH with them as being the town from which they came. Remember, this is only a theory, but some day this may carry more authority.

Regardless of what the theories are, the earliest records, as mentioned above, show that the AUCH name began appearing in the village of Plattenhardt (south of Stuttgart , Germany ) as early as 1381. (See map on page ). From here, one branch went to Seilmingen in 1536 and another branch went to Echterdingen in 1550. Here there was a "schultheisz" (village mayor) in 1590 by the name of ENDRIS AUCH. Many famous people passed through this village on their way to Tubingen , the university town south of Stuttgart . People like Johann Goethe and Schiller and Lavater were regular visitors. There was also one quite well known member of the AUCH family by the name of Jacob A. Auch who was a cousin to Gallus Auch, our direct descendant. He was a clock maker and was an apprentice in 1782 by his father to one Philipp Mathaus Hahn, the renowned Theologian and pastor in Kornwestheim.

While we visited this area in Germany , we stopped at the Landesmuseum in Stuttgart where several of Jacob Auch's masterpieces are displayed. There are also other displays of his work in a museum in Furtwangen.

Jacob Auch became one of Germany 's outstanding clock-makers and produced many fine pocket watches and clocks. He constructed some of the clock mechanisms for the great astronomical observatory at Gotha . He also constructed several large floor clocks for Duke Eugen of Wurttemberg and developed one of the first practical adding machines, one of which is on display at the technical Hochschule at Karlsruhe . In addition to this, he wrote several definitive works on the science of clock-making (horology).

After his marriage, Jacob Auch was appointed to go to Karlsruhe by Professor Bockmann, where he assisted the Professor in the restoration of art work damaged during the invasion of the French army in Palatinate . Then, in 1798, Jacob was called to Weimar by Duke Karl Augustus where he was made Hofmechanikus (court mechanic). He later became an assistant to the famous German literary genius, Johann Wolfgang Goethe, and worked with the latter in the library of Goethe's home, constructing some of the scientific instruments Goethe used in his experiments.

A few words about Philipp Mathuas Hahn. It is important that we make mention of him as you will see later that he had a great influence on the AUCH family. Philipp Mathaus Hahn was a genius -- a theologian, clergyman, astronomer, clock-maker, inventor, fine technician and instrument maker. He had a laboratory in Kornwestheim where his two brothers and four sons turned out watches, clocks, and other scientific instruments. He eventually received an appointment from Duke Karl Eugene of Wurttemberg to the profitable parish in Echterdingen. Hahn had been born at Scharnhausen (near Echterdingen) and so he more-or-less came back to his home area. The Duke and his consort, Fransisca von Hohenheim, were long-time admirers of Hahn. So, Hahn came to Echterdingen as Pastor of the church where our ancestors worshipped and he baptized and confirmed many of the Auch children. Hahn continued his scientific work and his clock-making in addition to his pastoral duties. He had been a student of Albrecht Bengel and was, of course, influenced by the teachings of Bengel and Jung-Stilling. He was a devout Pietist, espoused the apocalyptic prophecy of Bengel and the Chiliastic movement, which was based on the belief that Christ was soon to return and establish His earthly theocracy. Hahn died in Echterdingen in 1790 and our ancestor, Gallus Auch, left Germany in 1816 for the Transcaucasia .

As you will see later, it was a time of great hardship and spiritual unrest in

Germany and the Chiliastic movement, so prevalent in Wurttemberg , was perhaps the main reason why Gallus Auch went to Russia . His destination was Transcaucasia , however, he settled in Johannestal, which he helped found. His brother, Jakob, however, did go on to the Transcaucasia in order to be close to Mt Ararat, where it was believed that Jesus Christ would return to.

To have a better understanding of our ancestry, please go to the FAMILY TREE FILE AUCH.xls on the home page. There you will be able to trace our family heritage back to the first mention of the AUCH name.

The AUCH's in this area were weavers, bakers, shoemakers and millers on the "siebenmuhlental" (valley of the seven mills).

We have had the privilege of traveling to Germany on several occasions and each visit produces more information and intrigue. Below are some links to maps and information with a legend of some of the interesting places and villages from which our ancestors came both in Germany and Russia and of course here in the United States and Canada . Please refer to these maps if there are any questions as to the location of any village, city or place in question. The following is a list of some points of interest.

GERMANY -

http://en.wikipedia.org/wiki/Germany - https://www.google.com/maps/@51.1504484,9.069842,6z

BADEN-WURTTEMBERG - The state from which the Auch's came. Once many states, then 2 states, now only one.

http://en.wikipedia.org/wiki/Baden-Wurttemberg - https://www.google.com/maps/@48.4327492,8.4241361,7z

. ECHTERDINGEN - Where our branch of Auch's settled first.

http://en.wikipedia.org/wiki/Echterdingen

. FILDERSTADT - 5 villages in Germany now make up this area, Bonlanden, Bernhausen, Harthausen, Plattenhardt, Seilmingen

http://en.wikipedia.org/wiki/Filderstadt

. PLATTENHARDT - Where it all began. The first recorded mention of the Auch family name in 1381.

. BONLANDEN - Our ancestor GALLUS AUCH went from here to Johannestal , Russia .

. STUTTGART - The main city in the area, just north of Bonlanden.

. SIEBENMUHLTAL - A beautiful valley with seven mills, several of which were operated by Auch's.

. SCHLOSZLEMUHLE - Some Auch's were born at this mill.

. ZEPPLINSTEIN - Monument to the landing of the Graf Zepplin.

1. Conditions in

Germany - Why they left Germany? .

In order to understand the Germany of our ancestors day one must realize that Germany consisted of over 300 states in the Eighteenth Century. Each state was ruled by a prince and his court, each having their own system of administration, taxation and religion. If a farmer or craftsman was in one of these states, he would pay heavily in the form of taxes and had to be a part of the religion of his ruler. He would also have to supply his ruler with his sons to serve in his rulers army.

These states would war against each other for greater power and could never get organized like

Prussia (present day Poland and part of Western Russia ) and Austria (present day Austria and Hungary plus more). So Germany was never a real power or threat. The two main powers during the mid 1700's in Central Europe were PRUSSIA, under King Frederick William, and later his son, Frederick the Great; and AUSTRIA, under Emperor Charles VI and later his daughter Maria Theresa. Later on in the 1700's both France and Russia would become significant powers under Napoleon in France and Catherine the Great in Russia .

So not only were the 300 states in Germany at war with each other, but also as these great powers did battle they would march through the areas where our ancestors lived, often taking with them sons to do battle, cattle and grain for food and often would ravage and burn down their dwellings on the way. So it's not hard to see why our ancestors left

Germany .

a. Thirty Years War/ 7 Years War

First there was the Thirty Years War which started in 1618 and lasted until 1648. During this war 75% of the population of Germany was killed. Crops and property everywhere was destroyed. It was the signing of the the "Peace of Westphalia" which finally ended this terrible war.

Secondly, the 7 Years War lasted from 1756 to 1763. It was a war of revenge started by

Austria against Prussia because Frederick the Great had taken the province of Silesia from Austria in 1748. So again, for seven years our ancestors were involved in a war which had nothing to do with them. It was at this time, just as the 7 Year War ended that Catherine the Great extended her invitation to Germans to come to Russia . As we will see later, many accepted the invitation and left their homeland for Russia .

b. Napoleonic Wars

The period from 1790 to 1815 belonged to Napoleon Bonaparte. He was born in Ajaccio , Corsica on August 15, 1769 and died at Longwood, St Helena on May 5, 1821 . It was during this time that Napoleon would repeatedly march back and forth across Germany to battle Austria , Prussia , and by this time Russia . Germany was constantly being refashioned. All German territory west of the Rhine was annexed to France . East of the Rhine the many small states were eliminated by handing their territories to the middle-sized states, like Bavaria , Wurttemberg and Baden , to make these a counterweight to Prussia and Austria in Germany . Finally all these states were combined into the Confederation of the Rhine , with Napoleon himself as Protector. The elimination of the multitude of small states, relics of feudalism, was of permanent benefit to the German people, but it often involved changes which the inhabitants resented. French rule was harsh and in general bitterly resented. The constant wars destroyed towns and farms and crops; they disrupted industry and trade; they brought oppressive taxes, requisitions and confiscations; they dragged off young men to fight under a foreign flag. Many looked for a way of escape from this turmoil and conflict and the want and misery which was its aftermath. It was this along with several other reasons listed below that caused our ancestor, Gallus Auch at the age of 44 years, to pick up his family of four children and his wife Katarina and leave his village of Bonlanden/Esslingen, Wurttemberg, Germany for the steppes of South Russia. He and Katarina had already buried five of their children in Germany and Georg Adam, our direct descendant, would have been only four years old when he arrived in Russia .

c. Political Reasons

Political suppression by foreign powers, such as

France , Austria and Prussia also played a significant role in our ancestors decision to leave Germany . In addition to the foreign powers, there was also the suppression by the domestic princes and governments. Then there was the military and feudal service imposed upon them both in their homeland and for foreign powers such as France . On top of this the tax burdens imposed by these powers were totally out of control.

Certainly the political reasons were enough to make them want to leave, however, regardless of how severe these seemed, they were not the major reason for leaving their beloved Germany .

d. Economic Reasons

There was a severe economic depression in the southern

Germany area, particularly in Wurttemberg , after the Napoleonic wars and when the year 1816 brought disastrous crop failure there were famine conditions everywhere. The crop failure was not due to a drought but due to an overabundance of rain and cold weather. It even snowed in July of that year. It was reported that even tree bark was used to make bread. These were hungry years for our people. Additionally, there was a plague of mice in the fields and on the farms and to top it all off a volcano erupted in Indonesia , making the skies so dark, the sun hardly shined at all. All of these contributed to making the year 1816 an unbearable year and caused such economic hardship that many decided to leave because of it.

e. Religious Reasons

As mentioned before, religious beliefs were perhaps the major reason why the Auch's left

Germany . The Wurttemberg area was convulsed by religious quarrels. The established Lutheran Church had just introduced a new hymn book which was considered heretical by a conservative minority. There was as well an extremist Protestant movement which concentrated its attention the visions of St. John and saw the prophecies being fulfilled at this time. The long period of war, the hailstorms and cloud bursts of 1816, the appearance of a comet, along with "heresy" in the established church, these they thought to be the signs of the approaching end of the world. They looked eastward for a place of refuge, where the elect could escape from the plagues that would afflict mankind. They were greatly influenced by Philipp Mathaus Hahn who was a devout Pietist and believed that Christ would return to set up his Kingdom within their lifetime. Many of them believed that Christ would return to Mount Ararat , where Noah and the ark landed. If you look on a map you will notice that Mount Ararat is presently in northern Turkey and borders south Russia in the region of the Transcaucasia . Incidentally, this is the same area where the large earthquake took place in 1988. Many who held to this belief went to Russia for this reason. We have reason to believe that Gallus Auch also went for this reason, however, did not make it all the way and instead became one of the founders of the village of Johannestal .

Besides being influenced by Philipp Hahn in

Germany , our ancestors were also influenced by Barbara Juliane Von Krudener, a Russian writer and mystic of German origin who was also influenced by Johann Heinrich Jung-Stilling just as Hahn was. She was born in Riga , Latvia on November 22, 1764 and died in Karasubazar , Russia on December 25, 1824 . Earnest Knapton referred to her as the "Lady of the Holy Alliance". It's apparent then that the Chiliastic movement had a great influence on our family and for this they left for an opportunity for freedom and a chance to meet the Lord upon his return.

f. Personal Reasons

The German peasant of 1763 and thereafter had much reason to be unhappy. He groaned under feudal burdens imposed by the petty prince lings to keep up their royal state. He was persecuted for his religious opinions. His sons were dragged off to fight in wars in which he had no interest. Foreign as well as German armies had just devastated his fields and destroyed his house and his cattle. Industry and trade had been disrupted. Taxes had reached an all-time high. Poverty, malnutrition and unemployment were widespread.

2. The Invitation - Why they went to Russia? .

a. Catherine the Great
To a Germany thus afflicted came the agents of Catherine II of Russia , bringing the news of a paradise in the East. Her message found people in a receptive mood. She offered free land to serfs who had had no hope of ever owning a single acre; freedom of religion to the pious who had been persecuted for their faith; freedom from military service to the war-weary whose sons had bled in the recent wars; freedom from taxes to the oppressed who were groaning under their tax burden.

Because of this invitation a mass exodus occurred from 1764 to 1767. This first mass movement of Germans went primarily to the

Volga region on the Volga river. Over 7000 families ( 25-27,000 people) mainly from the Hesse region, left Germany and headed to the barren steppes of Russia . These groups did not take the same route as our ancestors took as we will see later. Instead, they went to northern Germany to one of the Baltic ports, usually Lubeck , from where Hanseatic or English ships took them to Kronstadt, near St. Petersburg . From here they took a ship up the Neva to Schlusselburg, along Lake Ladoga to the Volkov River , up the Volkov to Novgorod . Here began an overland trek to Torshok on the Volga .

The hardships they had to experience tested their endurance to the utmost. Many fell sick and had to be left behind in Russian towns to recover; some died and were buried along the route. Some groups had to spend the winter in the Torshok region. Here they were quartered with Russian peasants in their smelly huts and got a real taste of the manners and customs of their new homeland. How they wished they were back in

Germany ! But there was no returning.

This was the beginning of the German-Russian movement which would last well into the mid 1800's. Our ancestors would not leave for another 50 years, but the exodus had started and soon they too would follow.

More will be said about Catherine the Great's invitation later, because it really wasn't Catherine's manifesto that caused our ancestors to leave but rather that of Alexander I (1801-1825).

3. Enroute to Russia

In September 1816 a group of forty families left Wurttemberg for the " Holy Land ". It is quite certain that Gallus Auch was a part of this group. Their leaders were fanatical men who had served prison terms for their religious opinions. They traveled to Ulm , Germany , southeast of Stuttgart , where they boarded a primitive boat and from there sailed down the Danube River , past Vienna , Budapest , and on to Ismail on the border of Russia . Here their provisions gave out and they were kept alive during a 24-day quarantine period by the charity of Greek merchants. By Christmas they had arrived at the Swabian colony of Grossliebental near Odessa , where they remained for the winter. To proceed farther in Russia they had to get government permission, which did not arrive until July 1817. Thirty-one of the original families then took off and traveled for months along the northern Black Sea coast, to Kherson , on to Taganrog , to Rostov , To Stavropol, and finally, across the Caucasus mountains , to Tiflis in South Caucasus . Here the Russian authorities stopped them and forced them to settle down. It was Easter 1818 when they founded, with government help, the village of Marienfeld in a mountain valley about twenty miles from Tiflis . It is believed that Jakob Auch, a brother to Gallus Auch, was with this group. But for some apparent reason, Gallus was one of the nine who withdrew his family from the group and decided to settle north of Odessa , and become one of the founding fathers of Johannestal.

News of the arrival of their co-religionists in

Odessa acted like an alarm-bell on the Separatists of Wurttemberg. Everywhere groups began to organize for emigration. Many who were not so concerned about religious matters but wished to leave for economic reasons joined the extremists so that the government would permit them to leave. The assembly point again was the city of Ulm on the Danube . Seven to eight thousand people left here at intervals during the summer of 1817 and journeyed down the Danube . Many of them were ill-suited physically to stand the rigors of such a long journey in overcrowded ships. Disease broke out among them and killed hundreds. Some of them lost heart by the time they reached Hungary and left the expedition there. The main body, in spite of all hardships and difficulties, continued on to Ismail. Here an epidemic of fever struck them and killed 1,200 people in a 24-day quarantine period. As a result of deaths and desertions on the journey, the original group of nearly eight thousand people had shrunk to about five thousand by the time they left Ismail. Of these approximately 250 families settled in the Odessa area in those villages that were already founded. The rest, about 500 families, insisted on going eastward "to meet the Lord". Of these, 486 families arrived in the South Caucasus and joined those who had preceded them.

1. Conditions in Russia - Why they came to Russia .

Russia

was a country filled with royalty who lived lavishly and peasants who lived in huts and were extremely primitive. Agriculturally it was lagging far behind western Europe in its development. The masses of the people, more than ninety percent of the population of about 20 million, were cruelly oppressed serfs, who worked the lands of the nobility, the church and the crown, and provided the labor force in the few mines and factories that the country possessed. Bought and sold like cattle, flogged mercilessly even for petty offenses, they were a half-savage lot, ignorant, superstitious, lazy and inefficient. The bulk of this population lived in the central provinces , surrounding Moscow . Vast stretches of fertile land in the south and east lay uncultivated, virtually the only inhabitants being scattered nomad tribes and robber bands of runaway serfs. Catherine, herself a German princess, conceived the plan of filling these empty lands with industrious peasants from her native land. These were to bring western culture and industry to Russia and to serve as models for her backward people.

This was not the first attempt by a Russian sovereign to look for help from outside his country. Ivan the Terrible (1533-1584) invited skilled workers from the West. The first Romanov tsars, Michael (1613-1645) and Alexis (1645-1676) actively encouraged their people to learn from the people who lived in the "German Suburb" of

Moscow . But it was primarily Peter the Great (1689-1725), the son of Alexis, a fanatical admirer of the ways of western Europe, who made the first determined effort to Europeanize Russia . In his youth Peter would spend much time in the German quarter of Moscow . When he became Tsar, he made trips to Europe , visiting Germany , Holland and England and brought back skilled workers to teach Russians the techniques of the West. But his attempts made only a dent into Europeanizing Russia .

a. Tartar Wars

There were really two reasons that led the Russian governments to invite peasants from foreign countries, particularly from Germany , to come to Russia . On the one hand, it was necessary to cultivate vast areas of untilled land and introduce agriculture. One the other hand, the German colonists were to provide a protective wall against the Asiatic tribes (this was above all intended in the Volga region). However, under Catherine II and Alexander I (1801-1825) large areas on the Black Sea were wrested from the Turks. It was this land that our fore-fathers obtained and they became the buffer zone between the Turks and the white Russians in central Russia .

b. Catherine the Greats Manifesto - July 22, 1763

Even though Ivan the Terrible and Peter the Great made attempts to Europeanize Russia , it wasn't until Catherine the Great entered the picture that things started to happen. Catherine was a German princess, a daughter of the impoverished princely house of anhalt-Zerbst. She was called to Russia by the Empress Elizabeth (1741-1762), a daughter of Peter the Great, in 1744, to marry her nephew Peter, the heir to the throne, the son of Elizabeth 's sister Anne, the Duchess of Holstein. The young princess was a lively and talented girl, who knew how to ingratiate herself with the Russians, as her husband did not. She learned the language and the history of her adopted land and soon became entirely devoted to its interests. Her husband, an ignorant boorish man, remained always a German and subordinated the interests of Russia to those of his little German Duchy of Holstein. When he became emperor in 1762, as Peter III, he soon alienated all the people that mattered, the army, the nobility and the church. After a few months a palace revolution unseated him and placed Catherine on the throne. Shortly afterwards he was murdered by her partisans.

As mentioned before Catherine issued a manifesto inviting foreigners to settle in

Russia , particularly that area along the Volga river. She issued not one, but two manifestos. The first one in December of 1762. This one had little affect. After further consideration, on July 22, 1763 , Catherine issued a new manifesto, a master-piece of immigration propaganda, which became the cornerstone of Russia 's colonization policy for a century. The thousands of settlers it brought to Russia , and their descendants, looked on this document as their Magna Carta. Again and again, throughout their history, in their dealings with succeeding governments, they referred back to Catherine's manifesto and the promises it had made.

This famous document gave an alluring picture of Russia ; large tracts of fertile land virtually uninhabited, in well-watered regions readily accessible to trade, with a wealth of minerals and ores waiting for discovery, with lucrative opportunities for the establishment of industries; a vast sparsely populated paradise waiting only for people to enjoy it. To attract the foreign settlers generous promises were made: 1. free transportation to Russia, 2. freedom to settle anywhere in the country; 3. freedom to practice any trade or profession, 4. generous allotments of free land to those who chose agriculture, 5. free transportation to the site of settlement, 6. interest-free loans for ten years, depending on the site of settlement, 7. interest-free loans for ten years to establish themselves, 8. freedom from customs duties for property brought in, 9. freedom from taxes for from five to thirty years, depending on the site of settlement, 10. freedom from customs and excise duties for ten years for those who set up new industries, 11. local self-government for those who established themselves in colonies, 12. full freedom to practice their religion, 13. freedom from military service, 14. freedom to leave again if they found Russia unsuitable. All these privileges were to be applicable also to their descendants. What more could a prospective immigrant desire?

This document brought many Germans to

Russia , however, it was not until Alexander I, Catherine's grandson, issued a new manifesto on February 20, 1804 that our ancestors began once again to look to the East. By this time Napoleon was going to war with Prussia and Russia and things were looking quite dismal. Also, by this time, under Catherine and Alexander I, large areas on the Black Sea were taken from the Turks and they needed to be settled. For years they lay untilled. Therefore, Alexander decided to once again issue a manifesto, however, in order to not attract any "undesirables" which the first one did, he restricted this manifesto to include only those who "can serve as models for agricultural occupations and handicrafts...to good, well to-do farmers...; good agriculturists, people that have sufficient skill in viniculture and the planting of mulberry trees and other useful plants, or that are experienced in the breeding of livestock, especially in the management and breeding of the best types of sheep, and in general have all the necessary knowledge of efficient agriculture..."

The ministers at the foreign Courts received these instructions:

1. "That they advance no money, except payment for ships and vehicles of transport.

2. That those who make application must provide testimonials or secure guarantors, assuring that they possess property in cash or goods worth not less than 300 guilders...

3. It is self understood that the emigrants must be people with families.

4. If anyone, at any time, wishes to depart from the Empire, he is free to do so, however, under the condition that he pay off to the Crown his entire debt, plus the taxes for three years."

In this project of settlement, the lawgiver, Alexander I, was therefore less concerned with the quantity than with the quality of the immigrants; he was not interested in a large number, but in capable settlers. Therefore, we can assume that Gallus Auch had qualities that would make all of his ancestors proud.

It was this manifesto, combined with the aforementioned reasons for leaving Germany that caused Gallus Auch to pack up his family and belongings, take the long trip down the Danube , and to help found the village of Johannestal in South Russia .

c. Farms

In spite of all the promises of aid on the part of the Russian government, the initial years were fraught with great difficulties. The long trek itself, under the prevailing conditions, made inhuman demands upon the first immigrants. After all, some of them had to travel more than 2,000 miles. At the time of settlement, there was a woeful lack of dwellings, farming equipment, and draught animals. Truly, the first generation did not have an easy time. It took time to get used to the new climate and to the new, totally different farming methods in the vast, treeless steppe. But soon the wild steepe-grass disappeared and unending fields of grain waved over the broad level plain. The German administration known as the "Fursorgekomite", gave advice and strict directives as to how the land was to be worked. Soon the three (or four) field system of crop rotation, introduced by the German colonists, proved its usefulness. A portion of the land was left lying fallow, or it was used for root crops or maize. This soil was worked with great care and frequently tilled to keep it free of weeds. The greater, then, was the harvest. The production of wheat stood in first place; then came barley, oats, rye (called "Korn"), and maize (what we call corn today). Besides these, flax, potatoes and many kinds of common vegetables; horses, cattle, sheep and pigs; mulberry trees and silkworms; fruit, wine, bees, and tobacco; trees for shelter and for beauty; all these were produced at one time or another.

The farming methods were steadily improved; almost every year new farming machines came into use. Owing to the good, quick-stepping German horse, the harvest could always be brought in with dispatch, the wheat threshed promptly and marketed while the price was still good. And yet the wheat often had to be hauled 15 to 60 miles to the nearest railway station or the seaport. One could see hundreds of German farm wagons, loaded with wheat, rolling across the wide, open plain. With the proceeds they built better houses, bought farm equipment or farm land.

The raising of sheep was one of the first activities that became commercially lucrative for most of the

Black Sea colonies. This industry was encouraged by the Russian government, which brought in large numbers of Merino sheep in the early 1800's. These thrived on the steppes of southern Russia and produced a fine wool for which there was a great demand from the Russian peasant's for winter coats and hats. Grain gradually displaced sheep as the most profitable agricultural product. Three exceptionally good crops in succession, in the years 1836, 1837, and 1838, brought unexampled prosperity to the German Black Sea colonies.

The crops were not always good in this region, however. Drought was frequent, sometimes so prolonged that all grain and vegetable crops perished. The chronicles of 1848 mention poor crops or no crops at all over wide areas in the years 1812-1814, 1822-1824, 1833-1834, 1841-1842, and 1845-1847. The blackest year of all was 1833, when there was no growth whatever and the whole of the

Black Sea region was ravaged by devastating dust storms. Even in years when moisture was adequate, crops were often seriously damaged by locusts, caterpillars, bugs, or field mice. The locusts particularly, who flew in periodically in great numbers, so many that they darkened the sky, ate up all growth in their path. This was something that their descendants would again experience, a hundred years later, in a different country - namely the United States .

Under such drought conditions it was necessary to make provision for feeding of man and beast in years of crop failure. This was done by building grain storage facilities in each

Black Sea colony. Each grain grower being required to contribute his share to the common store. This prudent measure kept the periodic famines which afflicted Russia away from the German colonies. It was not until our own days, in the years 1921-1922 and 1933-1934, after the Soviet regime had confiscated stores of grain, that Russian Germans died of hunger.

(Under the FAMILY PHOTO'S FILE you can obtain a layout of Johannestal, however, it may not be up this time)

(Layout of Farm Yard)

The farmyards were 360 by 120 feet, and were divided into front area with the house and barns, and back area with the threshing place and the straw stacks. To the rear was the orchard.

d. Villages/Groups

To this day if one asks a German-Russian immigrant or descendant in the United States where his parents or ancestors came from, he will usually say, "From Odessa". This, however, is for the most part not strictly accurate. They most likely came not from the city of Odessa but from the country near Odessa . Only a very few people actually came from the city of Odessa on the shores of the Black Sea . To understand this one would have to correlate this to the United States . One might say he is from Yankton, however, in reality he is from Menno or Scotland . Or he may say he is from Bismarck when in reality he may actually be from Napoleon or Mott.

An excellent series of maps developed by Mitch Roll, "1700s & 1800s German-Russian Settlements" MAPS OF RUSSIA: http://www.rollintl.com/roll/grsettle.htm illustrates the locations of the German settlements. After you get into the site, go to the "Beresan Map" page for information on "Johannestal".

In order to understand the German-Russian settlements in Russia it is best to divide them up into areas, groups and colonies. First, there were three distinct areas; the Volga Germans (Volga Deutsch), the Black Sea Germans (Schwarzmeer Deutsch) and the Volhynia Germans (Volhynia Deutsch). We would like to show you how enormous and complex the German-Russian movement to Russia really was so we will try to include most of them. Refer to the map below to get these areas firmly fixed in your mind. Secondly there were distinct groups with distinct names within these areas. For the purpose of this publication we will concentrate primarily on the Black Sea German area and its distinct groups and will only make mention of the other two. We will in particular concentrate on those colonies in the Odessa Province . Again these groups are:

1. The VOLGA GERMANS - this was the earliest area settled (1764-1767). 104 colonies were founded in the middle Volga river region near the city of Saratov , Russia . There were two distinct groups:

A. The Bergseite Group - located on the west side of the Volga river and consisting of 44 colonies.

B. The Weisenseite Group - located on the east side of the east side of the Volga river and consisting of 60 colonies.

2. The BLACK SEA GERMANS - this is obviously the area most of our ancestors came from. It consists of the entire area around the Black Sea and takes a the largest number of groups and colonies. Since many of us are pure German-Russians, it is quite certain that your ancestors both paternally (your fathers side) and maternally (your mothers side) came from this area but perhaps from different groups or different groups and colonies. Starting with the group that our ancestors Jacob Auch, Christian Auch, and Frederick Auch came from, they are:

FROM THE PROVINCE OF ODESSA

A. The Beresan Group - this group consisted of 12 colonies located 100 versts northeast of

Odessa in the Beresan River valley. The first eight colonies were founded by 600 families, mainly from the Palatinate , Alsace , and Baden in Germany . These eight colonies were: 1. Landau, 2. Speier, 3. Karlsruhe , 4. Sulz, 5. Rohrbach, 6. Worms , 7. Rastadt, 8. Munchen. Of these two were Protestant and the rest were Catholic. Then in the years 1817-1819 another group of German immigrants, consisting of 200 families came to the Beresan region. Of these, 51 Catholic families, mainly from Baden and the Palatinate , founded Katharinental. The rest, mainly Wurttemberger, but including some Badener and others, all Protestants, founded four new villages: Johannestal, Waterloo , Friedrichstal, and Stuttgart . The last three found their settlement sites short of water and in 1827 asked the government for land in another area. As a result 96 families were moved from the Beresan region to a tract of land 15 versts north of Odessa , where they founded the colony of Guldendorf in 1830. Friedrichstal and Stuttgart were abandoned permanently but 20 families who had been among the founders of Waterloo remained behind in the Beresan region and in 1833, along with 14 other families, new arrivals and the sons of the older colonies, re-founded Waterloo. The net result was the addition of three new colonies to the Beresan group and a fourth new colony near Odessa : 9. Katherinental, 10. Johannestal, 11. Waterloo , 12. Guldendorf.

Johannestal is obviously the colony that we are most interested in since this is the colony that our ancestor, GALLUS AUCH, helped found in 1816. This is where GEORG ADAM AUCH, Gallus' son grew up after moving here from Germany with his father and mother. He was only 4 years old and obviously was the one who must have felt most at home in Johannestal. It was Georg Adams three sons, JACOB AUCH, CHRISTIAN AUCH and FRIEDRICH AUCH of whom we are all descendants. Therefore Johannestal must be the colony in which our ancestors GALLUS AUCH and GEORG ADAM were buried. I have visited the cemetery there and it is in complete devastation. Names on a few of the markers were legitable but no AUCH name was found.

Since each colony kept a chronicle of events we would like to give you a condensed version of some of the information contained in The Chronicle of Johannestal:

The colony of Johannestal was located in the Sasika valley, 10 versts SW of Landau and 15 versts SE of Rohrbach. The Crownland allotted to the colony amounted to 11,202 acres, and was planned for about 80 farmers.

A few families seemed to have arrived as early as 1816 and 1817, but the actual settlement did not get under way until 1820, when 34 families arrived. These families were a part of the immigrant contingent that survived the fateful Danube expeditions of 1816 and 1817, and who were temporarily lodged in Grossliebental pending their settlement in the Odessa area. Of the 34 pioneer families, 27 had emigrated from Wurttemberg , and the remainder (presumably) from Baden .

The colony was established under the supervision of General Johannes (Ivan) von Inzow, who was the superintendent of the Colonist Welfare Committee. In appreciation of his solicitous efforts, the first mayor, Dietrich Lutz, proposed that the colony be named after its chief benefactor. Since the settlers were very poor (only a few had larger sums of money), the Welfare Com­mittee granted each of the 34 families an advance loan of 660 rubles, which was almost double the normal amount. The fact that the "semelankas" (houses of stamped earth) were not ready in 1820 made it necessary to quarter the new settlers with the colonists of Rohrbach until the following spring.

Other families continued to arrive in succeeding year: 8 fro the Warsaw area in 1822; 8 from Baden in 1824, and 8 from Wurttemberg in 1829/30. According to the census of 1830, Johannestal had 56 households, with a population of 285 (110 married, 8 single, and 167 children). Ten more families, half of them from Wurttemberg , arrived in 1831, bringing the total to 66 families, almost half of them Swabian. In 1859 the population of Johannestal had increased to 625.

B. The Gluckstal Group - this group consisted of 4 colonies located 10 versts from the Dniester River , northeast of Grigoriopol. They were: 1. Gluckstal, 2. Neudorf, 3. Bergdorf, 4. Kassel . All of these were Protestants, the majority Lutheran, a minority Reformed.

C. The Grossliebental Group - this group consisted of 10 colonies located just west and southwest of

Odessa . They were: 1. Grossliebental, 2. Kleinliebental, 3. Josephstal, 4. Mariental, 5. Alexanderhilf, 6. Franzfeld, 7. Lustdorf, 8. Neuburg, 9. Peterstal, 10. Freudental. Of these ten colonies, four were Catholic: Kleinliebental, Josephtal, Mariental and Franzfeld. The rest were Protestant.

D. The Kutschurgan Group - this group consisted of 6 colonies located 40 to 60 versts northwest of

Odessa . They were: 1. Strassburg, 2. Baden , 3. Selz, 4. Kandel, 5. Mannheim , 6. Elsass. All of these were Catholic apart from two or three families.

E. The Hoffnungstal Group - this group consisted of 5 colonies located 100 versts northwest of Odessa . They were: 1. Hoffnungstal, 2. Neuhoffnungstal, 3. Rosenfeld, 4. Neuhoffnung, 5. Neu-Stuttgart. This group was originally a so-called "Separatist" colony but the colonists eventually joined the Lutheran Church .

F. The Kronau-Orloff Group - this group consisted of 17 Mennonite villages and 11 Catholic and Evangelical colonies located on the Inguletz river 115 miles north of Cherson. These were all daughter colonies which were purchased to provide for the "landless" (Landlosen).

G. The Berislaw Group - this group consisted of 4 colonies located on the Dniepr river, north of the city of Berislaw . They were: 1. Alt-Schwedendort (a Swedish colony), 2. Muehlhausendorf, 3. Schlangendorf, 4. Klosterdorf.

FROM THE PROVINCE OF TAURIDA

H. The Crimean Group - this group consisted of 9 colonies located in the Crimea (a peninsula in the Black Sea ). These had considerable experience in wine growing and were placed here for that reason. These colonies were: 1. Neusatz, 2. Rosental, 3. Sudak, 4. Herzenberg, 5. Otus, 6. Zurichtal (primarily Swiss), 7. Friedental, 8. Heilbrunn, 9. Kronental. These colonies were the wealthiest of all the Black Sea Germans.

I. The Prischib/Molotschna Group - Mennonites - this group consisted of 23 colonies located on the west bank of the Molotschna river.

J. The Halbstadt/Molotschna Group - Mennonites - this group was located on the east bank of the Molotschna river.

FROM THE PROVINCE OF BESSARABIA

K. The Bessarabia Group - this group consisted of 12 colonies located in

Bessarabia . They came primarily from Poland even though they were Germans who had first settled in Poland in the late 1700's. However, due to Napoleons invasion of Prussia and the fact that they lay in the path of these invasions as well as the fact that the Polish nobility were now persecuting the Germans, they once again were uprooted. These colonies were:

1.Tarutino, 2. Borodino , 3. Klostitz, 4. Krasna, 5. Kulm, 6. Leipzig , 7. Malojaroslawetz, 8. Arcis, 9. Beresina, 10. Brienne, 11. Fere-Champenois, 12. Paris . The names came from the battles of the Napoleonic wars, in which the Germans and Russians had fought together against the French.

FROM THE PROVINCE (DISTRICT) OF TRANSCAUCASUS

L. The Transcaucasus Group - this group consisted of 8 colonies located in the

South Caucasus in the Tiflis region. They were: 1. Alexandersdorf, 2. Elisabethtal, 3. Katharinenfeld, 4. Marienfeld, 5. Petersdorf, 6. Neu-Tiflis, 7. Annenfeld, 8. Helenendorf. These were the religious separatists of pietistic tendency which were addressed earlier. They were the ones who were determined to get to Mt Ararat to wait for the coming of the Lord. As mentioned before they were stopped by the Russian authorities and had to settle in this region. JACOB AUCH, Gallus Auch's brother was one of these and as mentioned earlier, Gallus Auch was also enroute to Mt Ararat, however, for some reason stayed in the northern Black Sea area to help found Johannestal.

FROM THE PROVINCE OF THE DON COSSACKS

M. The Taganrog Group - this group consisted of 20 colonies which were daughter colonies to the Mariupol group listed below and were located to the northeast of Mariupol and the

Gulf of Taganrog .

FROM THE PROVINCE (DISTRICT) OF THE NORTH CAUCASIAN

N. The North-Caucasian Group - this group consisted of no less than 80 colonies which were daughter colonies to the Volga Germans as well as the Black Sea Germans. These were obviously located in the North Caucasus .

FROM THE PROVINCE OF EKATERINOSLAW

O. The Chortitza Group - Mennonites - this group consisted of 8 colonies located on the

Dnieper river around Alexandrovsk , Russia . These were all Mennonites recruited in 1788 from Prussia .

P. The Planer or Mariupol Group - this group consisted of 7 original colonies and 19 daughter colonies located on the Sea of Asow , northeast of the seaport Mariupol. It was a mixture of Mennonites, Evangelical and Catholic settlements.

Q. The Hutterite Group - this group consisted arrived in Russia in 1770 as a group of about 70 people, refugees from religious persecution in western Europe. They lived in Russia for about a century, until in the 1870's when they left Russia and by this time numbered 700 people. They moved to the United States and set up three communal property colonies in South Dakota , being Bon Homme, Wolf Creek and Elm Springs. They moved three or four times within Russia , the first being located between Kiev and Chernigov on the Dessna River . Next they moved to the Molotschna region near Melitopol. From there they moved 100 versts north where they founded the colony of Hutterdorf and Scheromet.

3. The VOLHYNIA GERMANS - this was the latest of the areas to be settled (1860's), although there had been attempts as early as 1783. These Germans came primarily from Poland (Russian Poland) and Galicia (Austrian Galicia). These consisted of four groups:

A. Zhitomir Group - located northwest of Zhitomir , Russia consisting of 2 large colonies.

B. Novograd-Volynskiy Group - consisting of 8 colonies.

C. Rovno Group - consisting of 5 colonies.

D. Lutsk Group - consisting of 13 colonies.

E. Pulin Group - consisting of 6 colonies.

Besides all of these there were isolated colonies such as the St. Petersburg Colonies around St. Petersburg ( Leningrad ) and the Baltic Colonies near Jamburg (Kingisepp) and Riga . Additionally, there were the Belowesch Colonies in the Ukrainian province of Chernigov and individually isolated colonies of Riebensdorf, in the Voronezh region, Hirshenhof, in Livonia , and Sarepta, below Tsaritsin ( Stalingrad ).

All of this is being pointed out to make us understand that the German-Russian movement was no small ordeal. It was enormous in its scope.

The layout of the colonies (the German settlements were thus called not only by the Germans themselves, but also by the Russian officials) were different in the individual areas and depended on the landscape and the available building material. In the Black Sea region the type known as the "street-village" predominated. The gable end of the houses faced the straight village street, which was from 30 to 100 yards wide, and the barns, granaries, and house were all under one roof. The one-story houses were always built of sandstone, or limestone, or brick; the walls were stuccoed and whitewashed. Each side of the street was lined with trees, mostly acacia. From these farmyards each individual farmer would go out to the fields to work them, and therefore each village resembled a wooden spoked wheel with the village as the hub and the fields around the village were the spokes and wheel. Thus the German villages, in contrast to those of the Russian and Tartars (in the Crimea ) always presented a neat, friendly appearance. This was so reminiscent of the Germany villages ("dorfs") they left behind, but so unlike what their descendants would experience when they emigrated to the United States .

In all German settlements, the small flower garden in front of the house was never missing. In the center of the village stood the church, or if this was lacking, the school which would then serve as the house of prayer. Thus the cultural center of the colonists' life found visible expression in the layout of the village.

In the

Black Sea region, the family was never permitted to divide the land apportioned to it (homestead land), but had to bequeath it to the heir, usually the youngest son. The father was, therefore, compelled to buy land for his other sons - and often there were four to eight of them. Therefore, the purchase of land was very extensive among the Black Sea Germans (about 11,340,000 acres).

The large size of the families and the ever-increasing shortage of land for the adolescent generation let to the establishment of numerous daughter colonies. The villages that were established at the time of settlement were soon overpopulated. If the colonists did not want to move to the cities and take up other occupations - and they had no desire to do so - there was but the alternative to buy land and found new villages. This was accomplished in two ways. Either the mother colony as such purchased large tracts of land and established new areas of settlement for those that had little or no land (daughter colonies), or a number of enterprising farmers from different villages joined forces to purchase land and establish a new village. Hence we find a whole series of villages that bore the name of the mother colony, with the affixed syllable "Neu" (new); Neu-Liebental, Neu-Prischib, Neu-Mannheim, Neu-Kandel, etc. The land was generally purchased from Russian land owners or generals who were glad to sell to the Germans, since they had ready cash and paid promptly. To the original 300 mother colonies about 3,000 daughter colonies were added, so that there were 3,300 German villages in Russia in 1940.

For a layout of what these villages looked like and a map of the

Odessa area highlighting the Beresan Group please take note of pages 21a and 21b.

e. Churches and Schools

Home life, church and school were intimately associated among the Germans in Russia . Already in 1832, the "Statute for the Evangelical-Lutheran Church in Russia " appeared. The highest church authority was the General Consistory located in Petersburg . Subordinated to it were eight Consistorial districts, which in turn were divided into Provost districts, to which the individual communities were subject. There were only a few pastors; often a single one had to take care of 15 and more communities. Whenever the pastor was absent, his representative, the sexton (also schoolmaster), conducted religious service, officiated at baptisms and funerals, and gave religious instruction. Church attendance was always good and the Sunday a genuine day of rest. Church holy days, hymns, and Christian instruction shaped the religious and cultural life in all denominations. The church made use of its entire influence to preserve the German character of the life, the morals, and the customs of the community. No child was admitted to the confirmation class unless it was able to read and write German. The postschool youth attended two years of "Kinderlehre" after confirmation, i.e. they practiced reading and writing every Sunday under supervision of the elders of the church. Thus the pastors and their representatives supervised not only the instruction in religion, but also the study of German. Until the abolition of colonial self-administration (1871), the schools in the German villages were actually church schools. The supporters of these schools were the church communities, also had to provide the means for building and maintaining the schools. In regard to method, the "colonist school" was of course backward compared with those in the mother country, since through the years the connection with Germany kept growing weaker and was at length almost completely lost before the first World War. However, in comparison with that of the Russians, the school system in the German communities ranked significantly higher. Whereas, according to the census of 1897, 78% of the Russian people were still illiterate, everybody in the German villages could read and write. In every German settlement, even in remotest Siberia , there existed a school, even though it often had a modest appearance. At certain central points in the areas of German settlement, so-called "Central Schools" were soon established, in which, above all, future teachers and village secretaries received their training. To these were soon added a number of secondary schools for boys and girls, as well as schools of agriculture. At the only practically German University of Dorpat, primarily the pastors, but also doctors and other academic professions pursued by the sons of the colonists received their training, and came back to the German villages.

f. Map of Ukraine g. Map of Russia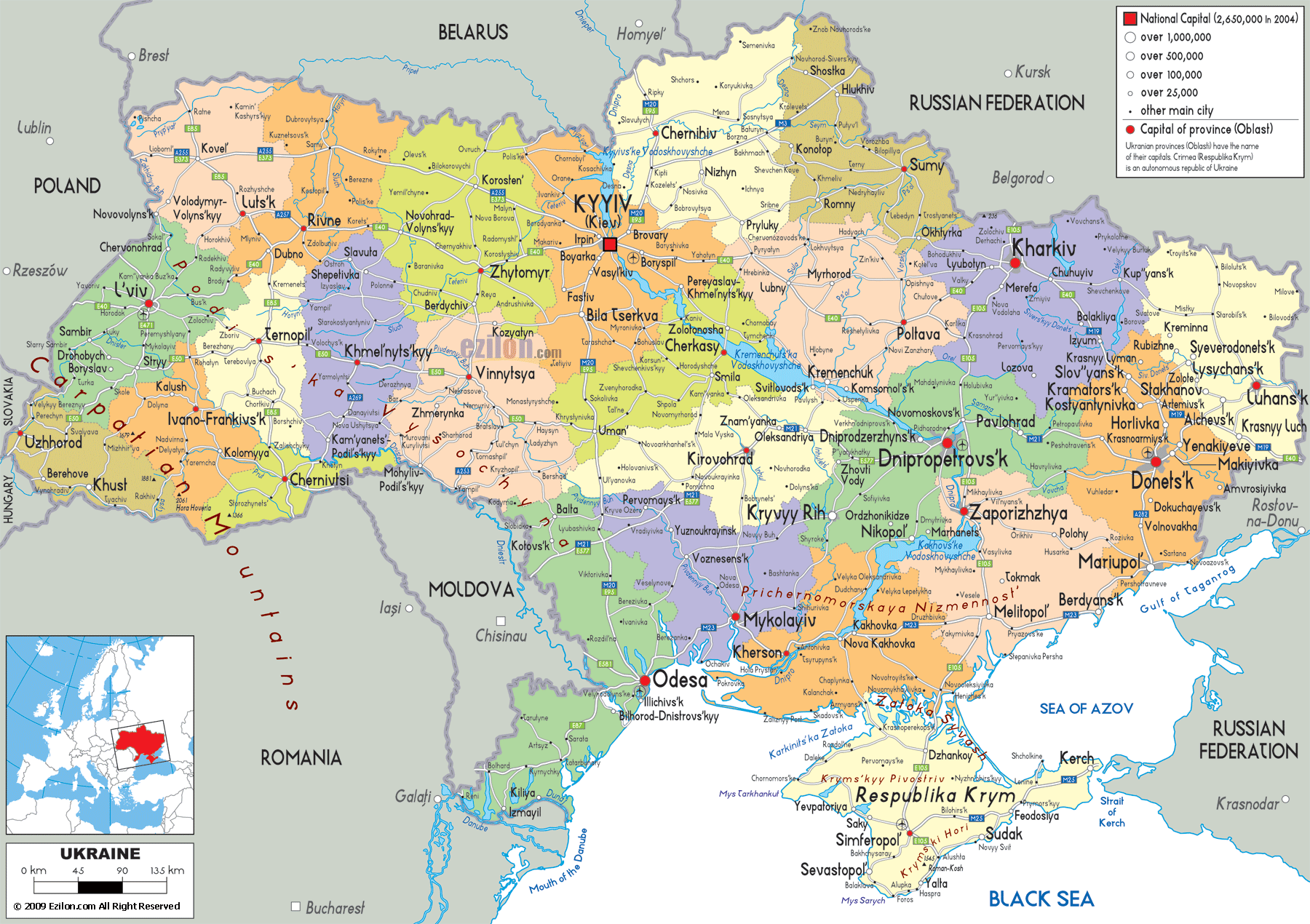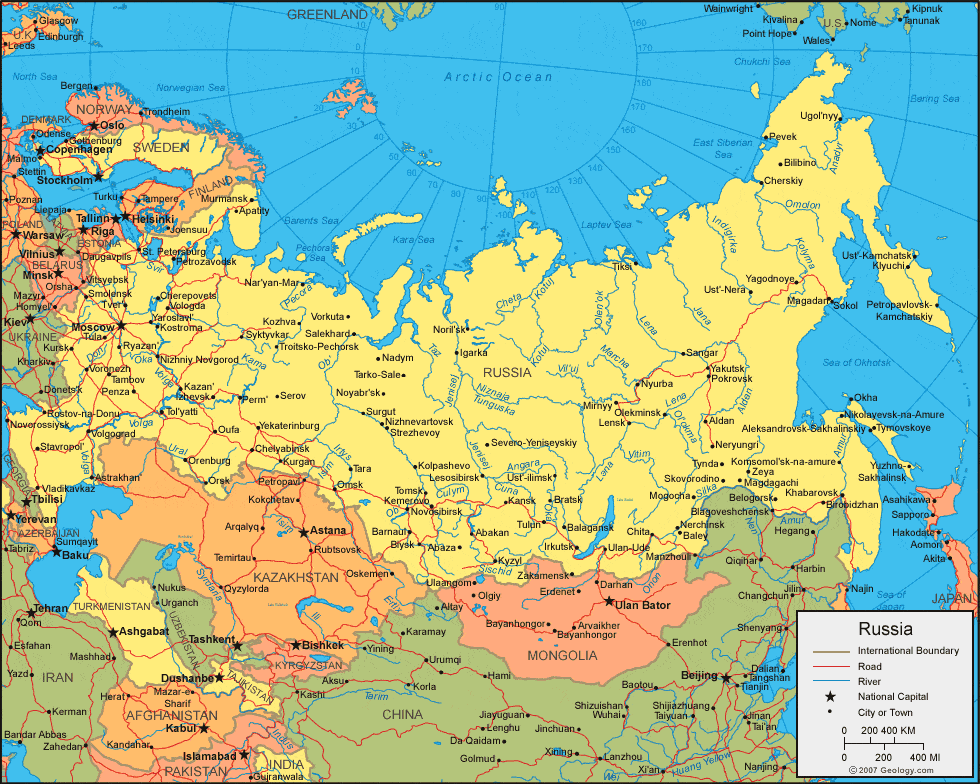 As an alien people living under the protectorate of a foreign government, the segregation of the German colonists from their Russian neighbors was virtually inevitable. Living in their wholly German villages with their own elected officials, attending their own German schools and churches, they lived lives distinctly separate from the native Russians. As there was no intermarriage with Russians, the colonists remained culturally pure.

Suddenly, the Russian Germans found their traditions and institutions in danger. As privileged foreigners, they had been growing larger in numbers and in wealth, acquiring ever more land at the expense of the Russian economy. In 1871 an imperial decree abrogated their special privileges. A period of ten years' grace was granted, but even this was not honored; a second decree in 1874 instituted military conscription at once.
Violently opposed to this attempt to Russianize them, thousands of German colonists migrated to Americas . Not only did the United States welcome them, but other countries, notably Canada , Brazil and Argentina , offered them a new home. The U.S. Census Bureau for 1920 lists 301,214 Russian Germans, first and second generation, with North Dakota having 69,985; Kansas 31,512; South Dakota having 30,937; and Nebraska 22,421. Other states such as Colorado and California counted lesser numbers. It was estimated that in 1940 there were between 350,000 and 400,000 Russian-born Germans and their descendants in the United States .

But how did all of this come about? How did it all start? Who led the stampede and why?

1. A missionary, a minister, and a farmer

a. A missionary. William Schauffler, a missionary to the Jews of Constantinople for the American Presbyterian church was a German-Russian who was born in Germany and had moved to Odessa with his father's family and who, as a young man, had studied at Andover , Massachusetts . After his return to Odessa in 1832, he was assigned to work among the Jews in Constantinople . He was an ardent Pietist and a member of the prayer meeting group while in Odessa . He was responsible for the organization of prayer meetings in a number of colonies and would often point out to the colonists that America was a land where one could worship freely in any way he chose. He highly encouraged and advised the oppressed families to emigrate to America .

b. A minister. Connected most closely with this movement was a minister of the colony Rohrbach near Johannestal, Johannes Bonekemper, a great Pietist. Originally a locksmith, he had received a religious education in Basel , Switzerland , at the Mission House and was sent to Russia in 1824 to become pastor at Rohrbach, a colony which was partly Reformed and partly Lutheran. Bonekemper labored very, very hard for twenty-four years to es­tablish prayer meetings in his parish, which consisted, in addition to Rohrbach, of the colonies of Worms , Balitzki, Johannestal, Gueldendorf or Waterloo . He was of strong Reformed conviction and since he was in the service of the Lutheran church, one can only imagine that it was not always easy for the authorities in Odessa and St. Petersburg to deal with him.

In 1847 there began in Bonekemper's congregation in Rohrbach a radical, religious movement which could only be described as a genuine revival. These revivals, held in a big tent, lasted for a number of weeks starting on Ascension Day, March 1 and spread to the other colonies of Waterloo , Johannestal and Balitzki. Jacob Orth, a school teacher in Worms , who later became the first minister of the Reformed German-Russians and settled in Lesterville , South Dakota was as a child among this group of "penitents", as they were called. The "conversion" he proclaimed often caused dissension not only within families but within the villages to such and extent that the people, divided into two camps; "converted" and "unconverted", not only quarreled among themselves verbally but even got into fist fighting. The situation finally became tragic and he realized that he had to resign. Thus he decided to send in his letter of resignation to the consistory on November 10, 1847 . On April 4, 1848 , a Palm Sunday, Bonekemper received the official notice informing him that he had been dismissed.

So there was Johannes Bonekemper without a congregation and without an income for his large family. Everywhere he was at odds: with the people, with his brothers in the ministry and with the officials of the Lutheran church. What he did have still were some friends in the prayer meeting circle at

Odessa of whom Abraham Sprenger was one. Bonekemper seemed to like more and more the Pietistic group in Odessa . The old plans which they had been working on for years began to take shape - plans for emigrating to America . On April 26 Bonekemper went with his friend Abraham Sprenger to Odessa and took lodging in his house. On the 5th of May, 1848 , he married in Odessa his maid-servant Christine Perlefein in the home of his friend. Now finally Bonekemper became convinced that it was time for him to leave Russia and go to America where his oldest son, Carl, had gone.

There were also others who made ready for the trip to America . One of them was Johann Ludwig Bette, who was to play a great role in the emigration in later years. Bonekemper, as his pastor, issued for him and his family a few documents in 1848 which Bette needed for his emigration. Bonekemper, however, never made it to America and he, his wife and four daughters remained in Russia in the little village of Atmagea , twenty-four miles west of Tulscha. The rest of the small group of twenty-three German-Russian families left Russia in July of 1948 destined for Sandusky , Ohio . In this group were Abraham Sprenger and his wife Barbara; Johann Ludwig Bette and his wife Anna Maria, their three sons and Ludwigs brother Mathaeus and sister Christine; August Scheller; as well as others.

The Sprengers settled in Burlington , Iowa . Scheller married Christine, the sister of his good friend Ludwig Bette. He acquired a vineyard of thirty-five acres on Kelleys Island near Sandusky , Ohio . Here he built a beautiful house which still stands with a large wine cellar which could hold 20,000 gallons of wine.

c. A farmer. Johann Ludwig Bette was also with this group and played perhaps the most significant role as it pertains to the immigration of the German-Russian people. He was from Johannestal, the same colony as our ancestors. He had emigrated to

Rumania , but did not like it there, so he returned to Johannestal. From here he immigrated to America , settling first in Cleveland , Ohio where he worked in a saw mill. Then in 1854 Bette moved to Kelly's Island where his friend Scheller was. Here he bought five acres of land for sixty dollars an acre. On one and a half acres of this land he planted a vineyard and from here on he became very successful. The Erie Atlas reported that "From this time on he enlarged his business until he finally got a vineyard of thirty-two acres. His crop in 1887 was more than 100,000 tons of grapes. He built his first wine-cellar in 1860; it has now a capacity of 70,000 gallons. He owns now sixty acres on the island and in Huron County a farm of 300 acres". In 1856 Bette built himself a fine home which still stands on Kelleys Island, but unfortunately is no longer in possession of the family.

Ludwig Bette, who by this time changed his name to Lewis Beaty, became not only well-to-do, but rather a wealthy man. He had two sisters who were married to Johannes Sailer and Jakob Steiger of Johannestal. The correspondence between him and his sisters went on through the years. In May, 1872, Bette decided to visit his relatives. With an American passport issued to him by the Secretary of State Hamilton Fish on May 31, he began his journey back to

Russia . Bette came to Russia at a time when the search for a land, for a new home, became the longing of thousands of people. A year before, in 1871, by imperial decree the privileges had been taken away. The Mennonites were getting ready for an exodus to America ; others planned to move farther to the east to avoid the draft. What should the colonists do?

Some directed their attention to

Palestine but the Turkish government could not agree to the conditions asked for so the negotiations broke down.

So, when Bette told his relatives and friends of the great possibilities, the freedom from military service, the opportunities to get land cheaply, homesteads...etc., the colonists opened their ears. Land and still more land, their own congregations and schools to their own will and liking. This is what they had in Russia and if another country was offering the same things - well, hurry, hurry thither!

Bette was well dressed, which made a great impression upon the modestly clothed people of the colonies. He spoke about

America in a number of colonies. It soon became evident that the officials of the government did not like his talks and were after him. The story is told that the colonists had to dress him in farmers clothes and sneak him over the state line, however, the Russian border was 300 miles away and it is quite unlikely that this is exactly how it happened. From the entries made in Bette's passport it appears he departed on August 11, 1872 .

With his visit Bette began a movement of which he had no idea. He had merely wanted to pay a visit to his relatives - that was all. The emigration of the German colonists to the United States had begun and lasted up to World War I and as much as was possible up until World War II.

It should also be mentioned here that from 1865 to 1876 the congregations in

Worms and Rohrbach were served by Rev. Carl Bonekemper, the son of Johannes Bonekemper. He had gone to America in March of 1849, finished a theological course at the seminary of Mercersburg , Pennsylvania , and served a congregation there. In 1865 he returned to Rohrbach. Since he left Russia again in 1876 for America , it is evident that he favored the emigration from Russia to the United States . This explains also why the idea of emigration which was brought up by Bette in the parish of Rohrbach was so effective.

It is also noteworthy to note that he served a number of parishes in South Dakota, including churches in Tyndall, Menno and Scotland. He is buried, together with his wife in the cemetery in Scotland, SD and should not be forgotten.

2. Czars Change Their Minds

Until 1871, an upward movement in all areas of life among the German-Russians was to be noted. This was almost exactly a century after the first Germans had settled in the

Volga region. There was a growth of prosperity amongst our people which found its expression in the acquisition of land; the cultural condition also improved (well developed school system, cultural associations). But it was precisely this progress that became a thorn in the eye of the Russian royalty and the majority of peasants. A movement arose which opposed the further expansion of the Germans in Russia . The German minority was regarded as a foreign factor of a cultural and economic kind within the national body politic, and this, it was felt, had to be opposed. One June 4, 1871, these circles succeeded in bringing about the abrogation of the Codex of the Colonists that had assured them certain important rights at the time of settlement. Thereby the era of self-administration came to an end and the colonists were made subject to the Russian Ministry of the Interior. In the local administration of the communities the records now had to be kept in Russian. Under Alexander III, who had wed a Danish princess who greatly detested German influence, an anti-German policy was adopted which also worked to the disadvantage of the German-Russians. Especially the abrogation of freedom from military service had serious consequences for young men. These altered conditions led to two important developments in the life of the colonists:

1. The migration to remote Siberia, where cheap land could still be acquired and where the new laws were not so strictly enforced, since the Russian government was interested in the settlement of that region.

2. The emigration to the

United States , Canada and South America . Just as the Russian government had formerly been interested in the migration of Germans and had granted them special rights and areas of free land, so now the governments of the New World extended similar offers. In 1862 President Lincoln signed the Homestead Act, which offered 160 acres of free land to any immigrant who indicated a willingness to become an American citizen. This opened the U.S. Midwest for extensive settlement. In 1872 a similar homestead act was established in Canada . Likewise there were favorable conditions of settlement offered by Brazil , Argentina , and Paraguay . The great emigration movement of the German-Russians began in 1872 and lasted until the beginning of World War II. Apart from the Mennonites, of whom about 18,000 left the Black Sea region for the United States and Canada at this time, emigration fever was less prevalent among the Germans in the south than in the Volga region. Only the Protestant colonies of the Beresan group, the Glueckstal group and Bessarabia had a significant number of emigrants. Nearly forty families from Johannestal, Rohrbach and Worms arrived in America as early as 1872-73 and became the first German settlers in the area north of Yankton, South Dakota . Here they were joined, in the years 1873 to 1880, by others from the Beresan colonies, from the Glueckstal colonies and from Bessarabia , as well as by Hutterites and Mennonites. Then they moved northward into the north central section of the state, the Aberdeen , Ipswich and Eureka districts, and by 1885 they were crossing into North Dakota . By 1900 they had founded settlements as far north as Rugby and as far west as Dickinson . Large numbers continued to come in the first years of the new century. This gave the Dakotas the largest concentration of Black Sea Germans in the New World . In 1873-1875 a substantial number of Protestant Beresaner settled near Sutton , Nebraska , and Bessarabian Germans near Columbus , Nebraska . Kansas too received Bessarabian Germans, who settled south of Russell in 1878. The Catholic Black Sea Germans came later in considerable numbers.

The total number of German-Russians in the New World in 1940 was estimated to be as follows:

North and Central America South America

USA 350,000 to 400,000 Brazil 250,000

Canada 200,000 Argentina 150,000

Mexico 30,000 Paraguay 4,500

Uruguay 2,500

--------------------------- -----------------------

Total 630,000 407,000

Since the Russian Czars and now the communist leaders had such a profound impact on our people and still do, it is appropriate that we list them and the years in which they ruled, starting with Catherine II who invited our people and ending with Gorbachev who perhaps holds the key to the release of and the future of our people still in Russia. We pray to God that his three-pronged pitchfork of "perestroika" (economic restructuring)

"glasnost" (openness) and "demokratizatsiya" (democratization) will have a positive affect on our people.

LIST OF RUSSIAN RULERS UP TO THE ROMANAV PERIOD

http://en.wikipedia.org/wiki/Tsar_of_Russia

LIST OF RUSSIAN RULERS FROM CATHERINE II UNTILTHE PRESENT TIME.

Catherine II "the Great" wife of Peter III, 1762-1796 - Issued the First Manifesto inviting Germans to Russia

http://en.wikipedia.org/wiki/Catherine_the_Great

Paul I, son of Catherine II, 1796-1801

Alexander I, son of Paul I, 1801-1824

-

issued the Second Manifesto inviting Germans to Russia

http://en.wikipedia.org/wiki/Alexander_I_of_Russia

Nicolas I, another son of Paul I, 1825-1855

Alexander II, son of Nicholas I, 1855-1881

Alexander III, son of Alexander II, 1881-1894

Nicholas II, son of Alexander III, 1894-1917

COMMUNIST PERIOD

Vladimir Lenin, 1917-1924

Joseph Stalin, 1924-1953

Nikita Khruschev, 1953-1964

Leonid Brezhnev, 1964-1982

Yuri Andropov, 1982-1984

Konstantin Chernenko, 1984-1985

Mikhail Gorbachev, 1985-1991 (Fall of the Soviet Union)

POST COMMUNIST PERIOD

Boris Yeltsin, 1991-1999

Vladimir Putin, 1999-2008

Dmitry Medvedev, 2008-2012

Vladimir Putin, 2012-2018

So, thus it was Catherine who invited our people with her manifesto and Alexander III who issued the decree which began the exodus of the German-Russian people from the steppes of

Russia to the similar lands of the United States . Once again it was a matter of starting all over again in order to preserve that which was so precious to our people - namely FREEDOM!

3. Enroute to the United States

The honor of leading this exodus from

Russia in 1872 belongs to three courageous groups of colonists living in the adjoining colonies of Johannestal, Rohrbach, and Worms , in the province of Odessa of the Black Sea region. Bidding friends and relatives good-bye, they thought for all time, they left within a few weeks of one another bound for the United States .

a. The First Three Groups Leave

(The dates below sometimes refer to the Old Style or Julian Calendar which was 12 days behind the New Style or Gregorian Calendar. Russia still went by the Julian Calendar and this is sometimes confusing. When the Old Style calendar is used there will be a (O.S.) behind it, otherwise the dates refer to the New Style.)

FIRST GROUP. Still in the summer of 1872 Bette's relatives prepared for the journey to the

United States . They included his brother-in-law Johannes Seiler and family, his married son Mathaeus Seiler and family; the second brother-in-law Jakob Steiger and family plus Michael Schatz and family. Four families in all with a total of 19 people. This first group sold its wheat on the stalk. They took the train from Odessa to Hamburg , Germany on about September the 12th (0.S.), where they caught a steamer, the "British Queen" to West Hartlepool, England, departing October 1, 1872 . From there they took a train to Liverpool where they sailed for New York on the Inman Steamship Company ocean-liner, the S.S. "City of New York " on about the 8th of October. They arrived in New York about October 19th. These were all from Johannestal, where JACOB AUCH, CHRISTIAN AUCH and FRIEDRICH AUCH were from. All three of these would soon follow, with JACOB AUCH leaving the same month, only in the second group.

SECOND GROUP. This group waited until their wheat was harvested, threshed and sold before leaving. On

October 10, 1872 (O.S.), the second group left Johannestal composing of a group of 58 persons. In this group was JACOB AUCH, together with others with names like Valentin Schafer, Gottlieb Sayler, Diehl and Kurz. On the 30th of October they sailed from Hamburg to Hull , England on the steamer "Leopard." After taking the train to Liverpool , they sailed to New York on the Inman Company liner, the S.S. "City of Bristol " on November the 5th. They arrived in New York on the 18th of November.

THIRD GROUP. This group, also comprising 58 persons, left Russia on the 17th of October (O.S.). They took the train to Odessa arriving late that evening according to the diary of Friedrich Mutschelknaus who was part of this group. In the morning of the next day they took the train for Hamburg , Germany , arriving three days later, on October 21st. Here they stayed for two days. A steamer, the "Tiger", took them to Hull on the east coast of England on the 5th of November. He records that "The North Sea was at that time quite turbulent and right then we became acquainted with seasickness". With the railroad they went from Hull to Liverpool . Here they boarded an unknown ship which was to take them to New York , departing on November 12, 1872 . According to his diary they had traveled westward three days and three nights when they ran into a violent storm. The ship was so badly damaged that they had to return to Queenstown , Ireland by sail six days later. After several days they set out again on board another ship of the Inman Steamship Line, the S.S. "City of Antwerp ". They finally arrived in New York on the 14th of December, however, by this time the third group had already arrived and was on its way to Sandusky , Ohio . Because of their late arrival in Sandusky , they were for a time presumed "lost at sea." With this group were families with names like Zimpelmann, Huber, Mehrer, Kusler, Moos, Mutschelknaus, Schumm, Schurzmann and Will.

FOURTH GROUP. This group also left in the late fall of 1872. Leaving Rohrbach and Worms on October 31 and arriving in Hamburg on November 10. On November 13th they set out for New York on board the Steamer " Silesia " arriving on the 2nd of December, having been on the water for 21 days. Families with the names of Stoller, Kutz, Jasmann, Wind and Sieler were on board, with a total number of 40 in their group.

These three groups proceeded on to

Sandusky , Ohio , more than likely by train via Pennsylvania . Here they spent the winter. Then in the beginning of March, the new immigrants held a gathering at which they agreed to send out scouts (Kundschafter) to look around for land which would suit them as a group. Twelve men were chosen. Among them were the following: Georg Jasmann, Christian Jasmann, Heinrich Sieler, Gottfried Mehrer, Jakob Mutschelknaus, Gottlieb Seiler and a few more. The Reformed Church minister in Sandusky , Ohio , Pastor Schaf, drew up the route for the scouts. He also sent letters in advance to pastors and members of his church so that when the scouts arrived, they could assist them by taking them in and showing them salable land. They went to Michigan , Illinois , and Wisconsin . Then to Kansas , Missouri , Arkansas , but still did not find what they wanted. They all wanted to be together so that they could have their own church and school. All they could find was eighty acres of land here and several miles away additional acres. They were then told that if they wanted to be together they would have to go as far west as Nebraska . Since it was too expensive for twelve men to take the trip, it was decided to send six men back to Sandusky , and the remaining six then set out on the trip to Nebraska .

They went to the region where Sutton, Nebraska , is today. But again they didn't find land according to their wish. There would be a section of government land and then a section of railroad land alternating, and the railroad land had to be purchased. Because there were poor people among their group who would not be able to buy railroad land, they thought that again the people would be scattered to widely. Finally they were told to go to the Dakota, to the city of Yankton , there they probably would find it the way they wanted. Since traveling cost money, they agreed to send home two more scouts from the six.

Around the city of

Yankton it was already quite well settled. To the east on the James river Danes had settled. North and west of Yankton Czechs had settled. However, further to the north there was still government land available for homesteads. After looking it over, the delegation liked the land so well that it decided to recommend Dakota for settlement. It could have been on the 25th or 26th of March, 1873 when the four scouts returned to Sandusky . An afternoon meeting was called in which all German-Russian people were to participate. The four men reported about the land and how the law of homesteading had been explained to them. They told the people that they had already seen green wheat and that the farmers at Yankton had told them that they had sown the seed at the end of February. This was almost like it had been for us in Russia .

The scouts declared, "We are firmly resolved that we all go to

Dakota Territory , to the city of Yankton . If you have faith in us, then let us go". To which the others replied, "If it is good enough for you, then it is good enough for us". There were those who lived in Sandusky , however, who tried to convince them to stay and told them that they could never make a living in the wilderness. They were also told that there were buffalo, wolves and bears in the Dakotas and that they would never be safe from surprise Indian attacks. Because of this some of the families stayed behind and those who went on to the Dakotas provided themselves with weapons just to be sure.

For the trip from

Sandusky to Yankton they obtained a special train. All household goods which had been acquired during the half winter stay were taken along. Nothing was sold. They got one railroad car for their goods and two for the people. On about April 14th at in the evening they left Sandusky . A light shower was coming down and when they arrived in Chicago it was snowing and the further west they went the more it snowed. Two businessmen from Yankton, Henry Hoefner and Jacob Brauch, met them in Chicago and when they arrived in Yankton they had arranged for lodging for the group. The entire trip took about three days.

The scouts had reported that the fields had been sown in February and that green crops stood in the fields, but when they arrived in Yankton, there was only deep snow. Dissatisfaction about the report of the scouts was very great. Some of the people claimed that the scouts had lied. The snow melted however and the green wheat came out again. Lodgings for them had been arranged in the building of "Wien and Buchwalder". There was a hardware store below and a large hall above in which they took shelter. Some of the families set up stoves which they had brought along from Sandusky to cook their meals while others ate at the hotel.

It was the 22nd of April when they arrived in Yankton and at

the time they arrived in Yankton, the 800-man cavalry of General Custer who had arrived on the 13th of April, was also quartered there. A stone marker in Yankton notes that Custer stayed with This cavalry in Yankton during the terrible blizzard which lasted for seven days. However there was no loss of lives. Custer left there on May 10, 1873 for North Dakota and Montana where he was surrounded by Indians and killed with 225 men on July 25 at Little Big Horn River. So, it could be assumed that our forefathers probably saw General Custer and his cavalry.

Several families purchased horses and wagons in order to drive out into the prairie to look for a place to settle. The old surveyor by the name of Maier went along on these drives. After breakfast they would take off across the prairie. They would take along their

meal and by nightfall they would have to be back in Yankton. An account has been given that on an afternoon in the last days of April, around , Gottlieb Sailer said, "We have driven around long enough; get down off the wagon and start measuring". The wagon then was stopped and they all got down and Mr. Maier took his survey tools in his hand, and several others pulled the chain as the first claim was surveyed. It was for Gottlieb Sailer. The area was located about three miles northeast of present day Lesterville, which did not exist then. One claim after another was surveyed, going four miles north, then turning about and surveying the claims going south. So it went, up and down, always toward the west until claims had been surveyed for everyone.

JACOB AUCH's claim was a part of this first surveying. His homestead claim was the NW1/4 of Sec 20 in Odessa Township , County of Yankton . It took them two and a half days to do all of the surveying. This colony or area received the name "Odessa Settlement" because all of the people lived in the Odessa District in Russia . A cemetery is presently located at the approximate center of this location. It was the site of the Odessa Lutheran Church which was the first church the Germans from Russia built. It is four miles north and one half mile east of Lesterville. Here in this area JACOB & ROSINA AUCH raised 11 children, six of which were born in Russia and five in the United States . Rosina, John, Elizabeth and Carl all died at an early age. Heinrich, Christian, Adam, Jacob and John all married and lived in the Lesterville/Scotland area. Sophia married Jacob Horst and later Ludwig Winter and moved to Elgin , ND . Agatha married Emil Schafer and lived in the same area. JACOB AUCH lived to be 61 years of age and is buried in the cemetery where Jacob Orth is buried at the site of the old Odessa Reformed Church which is located three miles north of Lesterville and one and a half miles west and then again about a third of a mile north. This is in Sec 31 of Odessa Township and is only about 200 yards from what was Jacob Orth's homestead. There is still a farm in existence. ROSINA AUCH remarried Jacob Kusler and upon his death she moved to Elgin , ND to live with her daughter Sophia (Auch) Winter.
Obviously, this did not all happen in 1872 and 1873. So, back in

Russia many others were planning their trip to the United States to join the first three groups. One of those was our ancestor, CHRISTIAN AUCH, Jacob Auchs brother of eight years younger. CHRISTIAN AUCH (27) together with his wife ROSINA (27) and three children, Christian (6), Andreas (4), and Sophia (11 months) came over on the ship "S.S. Westphalia" departing from Hamburg July 23, 1873. It is not known when they arrived in the Dakota Territory , however, it can be assumed that it was still in the latter part of that summer. He probably stopped in to see his brother Jacob first before staking his homestead claim located eight miles north of Menno in Section 33 of Wolf Creek Township. Here he and Rosina raised their family. Besides those born in Russia and mentioned above, they were blessed with seven more children, born on the homestead. Young Christian and Andreas died at an early age of 19 and 17 respectively, of scarlet fever together with Elizabeth and Magdalina 11 and 7 respectively. Sophia married George Haberle and moved to Golden Valley , ND . Katherine married David Heckenlaible and stayed in the Menno, SD area. Rosina married August Bauer and moved to Roscoe , SD. Magdalina married John Redlinger and moved to the Winner, SD area. The two youngest sons, John and Emmanuel married Lydia and Salomina Schoppert (sisters) and inheriting the farm of CHRISTIAN AUCH. Emmanuel lived on the homestead and John lived just north of there. CHRISTIAN lived to be 88 years old and is presently buried in the Johannestal cemetery, 8 miles north of Menno , SD , together with his wife ROSINA and the four children who died so tragically of scarlet fever.
FRIEDRICH AUCH

came to the United States in 1903 and since all of the land in the area where his brothers were was already taken up by homesteaders, he settled in Burt , ND . At the time of his arriving in the United States he was already 54 years of age. He brought with him his entire family except for Katherine his oldest daughter and Christine his youngest child who stayed with Katherine for some reason. All of his children were born in Russia Adam, the oldest at 34 years moved to Saskatchewan , Canada . FRIEDRICH's sons, Christian, Jacob and August moved to Lodi , California . Lydia , his daughter, married John Guenther and moved to Grandview , Washington and the rest, Andreas, Heinrich, Karl, and Benjamin stayed and settled in North Dakota . Since FRIEDRICH was the youngest son, being three years younger than CHRISTIAN, he perhaps had stayed back to inherit the farm in Russia left by his father Adam. By this time JACOB AUCH, his older brother had already passed away, since he died in 1899.
ELIZABETH AUCH, the sister to Jacob, Christian and Friedrich never came to the

United States as it could be presumed that she married in Russia and lived there. It has been told that she had at least two sons who came to the United States , however nothing is known of them.

There were other members of the AUCH family that came over about the time that FRIEDRICH AUCH came over. They were cousins to JACOB, CHRISTIAN & FRIEDRICH. They were GOTTLIEB, JACOB, ADAM, CHRISTIAN, LOUISE (Mrs Peter Gall), KATRINA (Mrs Christ Metzger), ELIZABETH (Mrs Jake Sayler) and DOROTHY (Mrs Fred Neuharth). More about these families are contained in a family book of GOTTLIEB AUCH written by Gertrude Vannet, one of his descendants.

4. Settlements in South and North Dakota

In the spring of 1874 they had finally begun sowing a little of their land which had been broken in 1873. In the month of July the heads were bounteously filled with grain and a new home had been established for our people. However, it wasn't without hardship. In the beginning, they had to undergo great difficulties. The drought and the plague of locusts at the very outset in

South Dakota found whole families often in dire need of bread. Some lived the whole winter on bread and coffee. Therefore the first years of farming were the hardest. The winters in the Dakotas were cold and merciless. It was necessary to keep a fire going continuously in the houses and they burned hay or manure, a fuel they had learned to use in Russia . Rain and cold seeped into the shack or shanty they had built. The clothing was usually poor and so was the bedding. The father of the family often had to go into the hardest winter, through the deepest snow to a remote town for a little sack of flour. Only too often he lost his way and was finally cared for by a good neighbor at night, while his family was home worrying.

These and many more hardships of pioneer life are in fact too well-known to bear repetition. One such hardship, however, bears mentioning at this point. It was the loss of a loved one and particularly the loss of a child. JACOB & ROSINA (SCHAFER) AUCH lost four children, Rosina, John, Elizabeth, and Carl, all at a very early age. Also, CHRISTIAN & ROSINA (DELZER) AUCH were hit hard by the scarlet fever epidemic of 1886 when they lost four children to the disease in just three weeks. They were Christian (19), Andrew (17),

Elizabeth (11) and Magdalena (7). It is said that this harrowing experience had much to do with ROSINA AUCH's hair turning completely white in just a short period of time. But, in spite of the hard beginnings, those people, men and women, went on struggling for a better future and with the years made remarkable progress. The earth proved to be thankful for the labor and for the care. The unfriendly, desolate prairies began to feel the friendly hand of man and to respond in a like manner. Little by little new land was broken, new houses were built and the German Russian people once again had found a new home.

Along with the new homes and farms, the granaries, the railroads and towns that were springing forth there was also the central element of the church which was being established. This institution was always central to our people and would continue to be so in their new homeland. One of the first things they did was to build the

Odessa Lutheran Church . This was the very first church the Germans from Russia built in the Dakotas . It was quite common for both Lutherans and the Reformed to work, live and worship in harmony. However, a split did develop and the Reformed Congregation left and built their own church in Section 31. This was the Odessa Reformed Church. Among the original founders were Ludwig Kusler, JACOB AUCH, and John Schafer. This church was organized by Rev. Jacob Orth who was a school teacher from Worms back in Russia . Rev. Orth was to play a prominent part in the establishment of Reformed Church in the Dakotas . He took a homestead among his country fellowmen. For two years he worked on his farm and also served the people in his neighborhood. Soon others who lived farther away also came to him and and there was nothing left but to help them too. He took his Seminary training in 1874-75, while his wife Magdalene and children kept the homestead going, south of Scotland . They had 13 children, including three or four sets of twins. It is not known how many of their children lived to maturity, as some did die as infants. At this time there are no direct descendants of his in the Scotland area. His family lived very poorly on a low salary provided by settlers who also didn't have much. Pastor Orth did not have a buggy until later and made the rounds of congregations using a stone boat, which was boards laid over two runners, horse drawn and used to pick up rocks in the fields. He also lacked warm enough clothing for the Dakota winters. Having to travel distances of 40 miles or more at a time, he died at the young age of 46 due to pneumonia, in March of 1883. In the course of 10 years, however, he was instrumental in starting churches around Scotland , Menno, Tripp, Delmont, Freeman and Marion . Churches like Emmanuel, Salem , Odessa , Friedens, Ebenezer, Saron, Kassel , Zion , and Johannestal, where CHRISTIAN AUCH was one of the founders, are but a few that are indebted to him for his labor of love for God and his people. Jacob Orth is buried in the same cemetery where JACOB AUCH is buried mentioned above.

So our indebtedness extends far and deep. We, the following descendants of JACOB, CHRISTIAN and FRIEDRICH AUCH have much to be thankful for. To them we "tip our hats" and "raise our glasses" and say "thank you" for bringing us to this wonderful land, this land of plenty, this land of freedom. May God help us to preserve it.

II. THE PRESENT (HERITAGE OF OUR FAMILY)

This is the chapter we must write. What we do and accomplish will soon become history. How will it be written?

The pages that follow are a list of the descendants of Georg Adam Auch and Barbara Englehardt. (If you are reading this from the website, go to the FAMILY TREE FILE.) However, first there must be an explanation of how to read the information in relation to their sons, JACOB, CHRISTIAN, and FRIEDRICH. The information is now being stored in a computer. This allows us to make continuous changes and the computer can sort the information without us having to retype everything each time there are changes. It will therefore take some time to get used to this format, however, once you do, you will find it very easy to understand. We would suggest that you look at your own record first, so that it will be easier for you to understand the format.

In addition we are including a format below to show the order of how the information appears under each record. (This is not necessary in the computer format, only the book. Since this is the computer format you can find the Family Tree under www.wideworldtravel.com/Auchfam/auchfam.xls )

You will notice that each person has a code. This code is given to every member of the family once they either: 1.) Get married or 2.) Reach the age of 21 and no longer live at home. The code is deciphered in the following manner and always refers back to one of the three brothers.

AC = Auch, Christian (AJ = Auch, Jacob) (AF = Auch, FRIEDRICH)

AC01 = the number following AC stands for the children of

Christian Auch and in order of birth. "01" = first child,

"02" = second child, "03" = third child, etc. These also

have a circle around the code for quicker identification.

AC01a = the letter following AC01 (02, 03 etc.) stands for the

children of "AC01" (02, 03 etc.) and in order of birth.

"a" = first child, "b" = second child, "c" = third child,

etc. These have a box around the code for quicker

identification.

* = the asterisk shows who the direct descendant is. The name

of the husband is always listed first unless the person

is not married.

? = if a question mark is inserted it means the information

was not available and we are still trying to ascertain

that information.

+ = if a plus sign is inserted it means that the either the

direct descendant or the spouse is still living and the

date refers to the other.

Much of this information was obtained through the resources available at both of the following associations:

AMERICAN HISTORICAL SOCIETY OF GERMANS FROM RUSSIA

631 D Street, Lincoln, NE 68502-1199

402-474-3363 Phone 402-474-7229 Fax

ahsgr@ahsgr.org email www.ahsgr.org

GERMAN RUSSIAN HERITAGE SOCIETY

1125 W. Turnpike Ave., Bismarck, ND 58501

701-223-6167 Phone

BIBLIOGRAPHY

Stumpp, Dr. Karl, The Emigration from Germany to Russia in the years 1763-1862

Stumpp, Dr. Karl, The German-Russians – Two Centuries of Pioneering

Geisinger, Adam, From Catherine to Khruschev – the Story of Russia's Germans

Rath, George, The Black Sea Germans in the Dakotas

Height, Joseph S., Homesteaders on the Steppe (Protestant Villages)

Height, Joseph S., Paradise on the Steppe (Catholic Villages)

Goertz, Reuben, Princes, Potentates and Plain People

Kroeger, Arthur, Hard Passage

Philipps, John, The Tragedy of the Soviet Germans

Schroeder, Gerhard P., Miracles of Grace and Judgment

Sallet, Richard, Russia-German Settlements in the United States

Below please find a few extra maps that may be helpful.

The AUCH's came from the Berasan District. From the village of Johannestal (Ivanovka)

The SCHAEFFER'S came from the Gluckstal District from the village of Neudorf (Karamanova)
Sprüche – Sayings and Proverbs
Wer zwei Hasen zugleich will jagen,
Wird keinen davon nach Hause tragen
He who hunts two rabbits at once
comes home empty-handed.
Aus nichts wird nichts, das merke wohl
Wenn aus dir etwas werden soll
Nothing comes from nothing.
This mark you well.
Whenever something is asked of you
your actions on you will tell.
Nichts ist so elend als ein Mann,
Der alles will, und der nicht kann
None is so miserable as a man
who wants to do it all
and can do nothing.
Wer nicht kann, was er will,
Muss wollen, was er kann.
He who cannot have what he wants
must learn to want what he has.
Ein Gewissen, gut und rein,
Geht uber Geld und Edelstein.
A conscience, good and pure,
is worth more than gems and gold.
"A good conscience is priceless"
Schatze nicht zu hoch das Geld,
Es hat nur Wert fur diese Welt
Don't value money all that much.
Its worth is only of this world
"You can't take it with you"
Der was kleines nicht ehrt
Ist grosses nicht wert
He who is not faithful in the small things,
is not worthy of the great things
Arbeit macht Leben süß
Aber Faulheit sterbt die Gliede
Work makes life sweet.
But laziness starves the members (limbs)
Morgen, Morgen, nur nicht heute
Sagen alle fauhle Leute
Tomorrow, tomorrow, just not today.
That's what all the lazy people say.
Was Ich nicht Weis, macht mir nicht Heisz
What I don't know won't make me hot.
"What I don't know won't make me angry"
Mach Hoy weil es noch Licht gebt
Make hay while it still gives light
"Make hay while it is still day"
Viele Hander, snelle Ende
Many hands, quick end
"Many hands make light work"
Drek macht Spek +
Dirt makes Fat
"A little dirt won't hurt you"
Hunger ist der beste Koch
Hunger is the best cook
"Hunger makes the best cook"
Er passt, wie meine Faust in ihren Augen
It fits like my fist in your eye
"It fits like a glove"
Keine Antwort ist auch eine
Antwort
No answer is also an answer.
"No news is good news"
Übung macht den Meister
Practice makes a master
"Practice makes perfect"
Ende gut, alles gut
All's well that ends well
Ohne Fleiss, kein Preis
No diligence; no prize
"No pain, no gain"
Was Hänschen nicht lernt, lernt
Hans nimmermehr
Learn when young, or else you
never will learn.
Literally. What little Hans doesn't learn,
grown up Hans will never learn.
"You can't teach an old dog new tricks"
Mit den Wölfen muss mann heulen
When with wolves one must howl
"When in Rome, do as the Romans do".
Jugend hat keine Tugend
Youth has no virtue
"Boys will be boys"
Wider den Tod ist kein Kraut
gewachsen
No cabbage grows in the face of
death
"There is no cure for death"
Eine Schwalbe macht noch keinen
Sommer
One swallow does not a summer
make
Wenn die Katze nicht zu Hause ist,
tanzen die Mäuse auf Tischen und
Bänken
When the cat's not home, the
mice dance on the table and
chairs
"When the cat's away the mice will
play"
Ein sperling in der Hand ist besser
als zehn Tauben auf dem Dache
A sparrow in hand is better than
10 doves on the roof
"A bird in hand is worth two in the bush"
Der Apfel fällt nicht weit vom
Stamm
The apple doesn't fall far from
the trunk
"Like father (mother) like son (daughter)"
Kleider machen Leute
Clothes make the person
"Clothes make the man"
Man muss das Eisen schmieden,
solang es warm ist
You must forge the iron while it's
still hot
"Strike while the iron's hot"
Ein guter Name ist besser als
Silber und Gold
A good name is better than silver
and gold
"A good reputation is worth its weight
in gold"
Gesundheit is der grösste
Reichtum
Health is the greatest wealth
Dummheit und Stolz wachsen auf
einem Holz
Stupidity and pride grow on the
same branch
"Pride goeth before a fall"
Jeder ist seines Glückes Schmied
Each is the blacksmith of his own
jewelry.
"You shape your own destiny"
Vor der Tat halte Rat
Before the deed, get counsel
"Think before doing / look before you
leap"
Eile mit Weile!
Rush with whiling
"Haste makes waste"
Erst besinn's, dann beginn's
First think then begin
"Plan ahead"
Blick erst auf dich, dann richte
mich
Look at yourself first,
then correct me
"Remove the speck from your own eye
before you remove the one from
mine".
Rede wenig, aber wahr, denn
vieles Reden bringt Gefahr
Speak little but true; a lot of talk
brings danger
"Beware of a loose tongue"
Est ist nicht alles Gold, was glänzt
It is not all Gold that glitters
"All that glitters is not gold"
Wer nicht wagt, gewinnt nicht
He who never gambles, never wins
"Nothing ventured; nothing gained"
Wer zuletzt lacht, lacht am besten
He who laughs last, laughs best
Wer säet, der mähet
He who sows, reaps
"You reap what you sow"
Wer nicht vorwärts geht, der
kommt zurück
He who never goes forward, goes
backward
"Never stop learning"
Was vom Herzen kommt, das geht
zum Herzen
What comes from the heart,
goes to the heart
"From heart to heart"
Not kennt kein Gebot
Necessity knows no rule
"Necessity knows no boundaries"
Vorsicht ist die Mutter der Weisheit
Caution is the mother of wisdom
Geld regiert die Welt
Money rules the world
"Money is King"
Er trinkt, wie ein Fisch
He drinks like a fish
Vergessen Sie, was hinter Ihnen ist
Forget what is behind you
"Don't dwell on the past"
Ein hund wass kolbt beist nich leicht
A barking dog seldom bites
Fallen is leichter als aufstehen
It is easier to fall than to stand up
Er ist so arm, als Kirche Maus
He is as poor as a church mouse
Ein schenkten gaul shaut mann nicht im maul
Don't look a gift horse in the mouth
Er ist so schnell wie eine Katze
He is as quick as a cat
Morgenstunde hat Gold im Munde
Morning hour has gold in its
mouth
"The early bird gets the worm"
Heute ein Gast, morgen eine Belastung
Today a guest, tomorrow a burden
"After three days fish start to stink"
Durch seine Lachen könt ein Narr
You can identify a fool by his laugh
Die faule leute tragen sich zu Tode
Und die fleissig laufen sich zu Tode
The lazy person carrys himself to death
and the wise person walks himself to death
(This was a phrase Dad often used when we as young boys would try to carry heavy things at once rather than make two trips)
Nachbarn sind wie zwei Hände
Sie brauchen einander
Sie können nicht die Hände allein waschen.
Neighbors are like two hands,
They need each other
They cannot wash their hands alone.
(This was one of Dad's favorite sayings)
Heilen, heilen Katze Drek, Morgen fruh ist alles weg
Heal, Heal, Cat dung, tomorrow early all will be well.
(This was a phrase that Dad would often use to heal a wound)
Warten nur bis Vater heim kommt
Just wait until Father comes home.
(This is a phrase Mom would always use on us when we deserved a spanking – we would then gladly accept her punishment).
Bube, dass macht mir nichts so viel aus wenn sie heim kommen,
Aber om morgen wenn es steit zu absteigen ruf Ich nur einmal
Boys, it matters not so much when you come in at night,
But in the morning when it is time to get up, I will call only once.
(This is a phrase that Dad would often make us aware of when we boys would come home late).
GERMAN SONGS
Eine ruhige Insel im Meer
von Glitzer und Tand
Hier laß dich nieder
Wir singen wieder
Die alten Lieder
A quiet island in the sea
of glitter and jurisdiction
Thee let down here
We sing again
The old songs
Besseres kann kein Volk vererben,
Als der eigenen Väter Brauch.
Wenn des Volkes Bräuche sterben,
Stirbt des Volkes Seele auch.
Better can inherit no people,
As the own fathers custom.
If customs of the people die,.
Also dies of people soul.
One of the best websites for German Songs and Hymns is www.ingeb.org . Not only do they give the words but often the melody via MIDI and sometimes even the notes.
Here is a small collection of some you might recognize.
HYMNS
Ein Feste Burg (A Mighty Fortress is Our God) Both in German and Swedish
Martin Luther, 1483-1546


Ein' feste Burg ist unser Gott,
Ein gute Wehr und Waffen;
Er hilft uns frei aus aller Not,
Die uns jetzt hat betroffen.
Der alt' böse Feind,
Mit Ernst er's jetzt meint,
Groß' Macht und viel List
Sein' grausam' Rüstung ist,
Auf Erd' ist nicht seinsgleichen.

2. Mit unsrer Macht ist nichts getan,
Wir sind gar bald verloren;
Es streit' für uns der rechte Mann,
Den Gott hat selbst erkoren.
Fragst du, wer der ist?
Er heißt Jesu Christ,
Der Herr Zebaoth,
Und ist kein andrer Gott,
Das Feld muß er behalten.

3. Und wenn die Welt voll Teufel wär
Und wollt uns gar verschlingen,
So fürchten wir uns nicht so sehr,
Es soll uns doch gelingen.
Der Fürst dieser Welt,
Wie sau'r er sich stellt,
Tut er uns doch nichts,
Das macht, er ist gericht',
Ein Wörtlein kann ihn fällen.

4. Das Wort sie sollen laßen stahn
Und kein'n Dank dazu haben;
Er ist bei uns wohl auf dem Plan
Mit seinem Geist und Gaben.
Nehmen sie den Leib,
Gut, Ehr', Kind und Weib:
Laß fahren dahin,
Sie haben's kein' Gewinn,
Das Reich muß uns doch bleiben.

Swedish by Olaus Petri


1. Vår Gud är oss en väldig borg,
han är vårt vapen trygga.
På honom i all nöd och sorg
vårt hopp vi vilje bygga.
Mörkrets furste stiger ned,
hotande och vred,
han rustar sig förvisst
med våld och argan list.
Likväl vi oss ej frukte.

2. Vår egen kraft ej hjälpa kan,
vi vore snart förströdda.
men med oss står den rätte man,
vi stå, av honom stödda.
Frågar du vad namn han bär?
Jesus Krist det är.
Han är den Herren Gud,
som klädd i segerskrud,
sin tron för evigt grundat.

3. Och vore världen än så stor
och full av mörkrets härar,
dock, när ibland oss Herren bor,
platt intet oss förfärar.
Världens förste är ju dömd,
och han kraft är tömd.
Han på ett huvudhår
oss skada ej förmår,
ett ord kan honom fälla.

4. Guds ord och löfte skall bestå,
vi det i hjärtat bäre.
För himmel, ej för jord, vi gå
till strids, och glade äre,
äre alltid väl till mods,
fast vi vågar gods
och ära, liv och allt;
ske blott som Gud befallt.
Guds rike vi behålle.
FOLK SONGS
Du, Du Liegst Mir am Herzen
Du, du liegst mir am Herzen,
Du, du liegst mir im Sinn,
Du, du machst mir viel Schmerzen,
Weißt nicht wie gut ich dir bin.
Ja, ja, ja, ja,
Weißt nicht wie gut ich dir bin.

So, so wie ich dich liebe,
So, so liebe auch mich,
Die, die zärtlichsten Triebe,
Fühl ich allein nur für dich.
Ja, ja, ja, ja,
Fühl ich allein nur für dich.

Doch, doch darf ich dir trauen,
Dir, dir mit leichtem Sinn?
Du, du darfst auf mich bauen,
Weißt ja wie gut ich dir bin.
Ja, ja, ja, ja,
Weißt ja wie gut ich dir bin.

Und, und wenn in der Ferne,
Mir, mir dein Bild erscheint,
Dann, dann wünscht ich so gerne,
Daß uns die Liebe vereint.
Ja, ja, ja, ja,
Daß uns die Liebe vereint.

tr. Frank 1997


You, are in my heart always,
You, you fill my thoughts too
You, you break my heart all days
Don't know how good I'm for you.
Yes, yes, yes, yes,
Don't know how good I'm for you.

As, as, much as I love you,
As, as much love me please,
All my feelings of love too,
Only for you I release
Yes, yes, yes, yes,
Only for you I release.

Yet, yet how can I trust you,
You, you of fickle mind?
You, you can count on me too.
You know to you I'd be kind.
Yes, yes, yes, yes,
You know to you I'd be kind.

And and when I am trav'ling
Your, your picture I see,
Then, then I dream love will bring
Your heart together with me.
Yes, yes, yes, yes,
Your heart together with me.
Ach, Du Lieber Augustin
Volkslied aus Wien

Refrain:
Ach, du lieber Augustin,
Augustin, Augustin,
Ach, du lieber Augustin,
Alles ist hin!

1. Geld ist hin, Mädl ist hin,
Alles ist hin, Augustin!
Ach, du lieber Augustin,
Alles ist hin!

Refrain:
2. Rock ist weg, Stock ist weg,
Augustin liegt im Dreck.
Ach, du lieber Augustin,
Alles ist hin!

Refrain:
3. Und selbst das reiche Wien,
Hin ist's wie Augustin;
Weint mit mir im gleichen Sinn,
Alles ist hin!

Refrain:
4. Jeder Tag war ein Fest,
Jetzt haben wir die Pest!
Nur ein großes Leichenfest,
Das ist der Rest.

Refrain:
5. Augustin, Augustin,
Leg' nur ins Grab dich hin!
Ach, du lieber Augustin,
Alles ist hin!

tr. Frank, 1999

Refrain:
O, my dear friend Augustin
Augustin, Augustin,
O, my dear friend Augustin,
I just can't win!

1. Money's gone, girlfriend's gone,
I just can't win, Augustin!
O, my dear friend Augustin,
I just can't win!

Refrain:
2. Coat is gone, staff is gone,
Augustin's on his bum.
O, my dear friend Augustin,
I just can't win!

Refrain:
3. Even that rich town Wien,
Broke is like Augustin;
Shed tears with thoughts akin,
I just can't win!

Refrain:
4. Every day was a fest,
Now we just have the pest!
Now all the corpses rest,
That is the rest.

Refrain:
5. Augustin, Augustin,
Lay down in your coffin!
O, my dear friend Augustin,
I just can't win!
The more we get together,
Together, together,
The more we get together,
The happier we'll be;
For your friends are my friends
And my friends are your friends,
The more we get together,
The happier we'll be.
| | |
| --- | --- |
| Dieses Lied ist 1678-1679 in Wien entstanden als die Pest wieder einmal einige Jahre regierte. Wenn man der Legende glauben darf, hat Augustin eines Abends ein bißen zu tief ins Weinglas geschaut und entschied sich für ein Nickerchen auf dem Heimweg von der Wirtschaft. Am Morgen wurde er mit anderen Leichen aufgelesen und im Karren weggeschafft. Glücklicherweise erwachte Augustin noch beizeiten, zum Schrecken des Leichenbestatters, und das Gerücht verbreitete sich schnell daß Wein die Pest heilt und natürlich auch ein hervorragendes Vorbeugungsmittel ist. | This song originated in Vienna during the Plague period of 1678-1679. Legend has it that one evening, Augustin hoisted one too many and decided on a nap half way home. The morning corpse patrol threw his body on the cart with the other corpses and took him away. Fortunately Augustin awoke in the nick of time, to the horror of the mortician. In no time at all, the rumor spread far and wide that wine was not only a cure but also a great prophylactic for the plague. |
Edelweiss (The English version is quite different from the German. Below I have included a more accurate translation
Edelweiß, Edelweiß,
Du grüßt mich jeden Morgen,
Sehe ich dich,
Freue ich mich,
Und vergeß meine Sorgen.
Schmücke das Heimatland,
Schön und weiß,
Blühest wie die Sterne.
Edelweiß, Edelweiß,
Ach, ich hab dich so gerne.

Edelweiss, Edelweiss,
Every morning you greet me,
Small and white,
Clean and bright,
You look happy to meet me.
Blossom of snow,
May you bloom and grow,
Bloom and grow forever.
Edelweiss, Edelweiss,
Bless my homeland forever
Literal Translation
Edelweiss, Edelweiss
You greet me every morning
When I see you
You make me glad
And I forget all my sorrows
Jewel of my homeland
Pretty and white
You blossom as the stars
Edelweiss, Edelweiss
Oh, I have you so gladly
Die Lorelei - The Loreley (English) is a famous rock outcropping on the Rhein (Rhine) River. It so memorized ship captains, thinking a beautiful girl sat on top combing her hair and singing beautifully, that they would often run aground there.
Heinrich Heine, 1822 (1799-1856)
1. Ich weiß nicht, was soll es bedeuten,
Daß ich so traurig bin,
Ein Märchen aus uralten Zeiten,
Das kommt mir nicht aus dem Sinn.
Die Luft ist kühl und es dunkelt,
Und ruhig fließt der Rhein;
Der Gipfel des Berges funkelt,
Im Abendsonnenschein.
2. Die schönste Jungfrau sitzet
Dort oben wunderbar,
Ihr gold'nes Geschmeide blitzet,
Sie kämmt ihr goldenes Haar,
Sie kämmt es mit goldenem Kamme,
Und singt ein Lied dabei;
Das hat eine wundersame,
Gewalt'ge Melodei.
3. Den Schiffer im kleinen Schiffe,
Ergreift es mit wildem Weh;
Er schaut nicht die Felsenriffe,
Er schaut nur hinauf in die Höh'.
Ich glaube, die Wellen verschlingen
Am Ende Schiffer und Kahn,
Und das hat mit ihrem Singen,
Die Loreley getan.
1. I cannot determine the meaning
Of sorrow that fills my breast:
A fable of old, through it streaming,
Allows my mind no rest.
The air is cool in the gloaming
And gently flows the Rhine.
The crest of the mountain is gleaming
In fading rays of sunshine.
2. The loveliest maiden is sitting
Up there, so wondrously fair;
Her golden jewelry is glist'ning;
She combs her golden hair.
She combs with a gilded comb, preening,
And sings a song, passing time.
It has a most wondrous, appealing
And pow'rful melodic rhyme.
3. The boatman aboard his small skiff, -
Enraptured with a wild ache,
Has no eye for the jagged cliff, -
His thoughts on the heights fear forsake.
I think that the waves will devour
Both boat and man, by and by,
And that, with her dulcet-voiced power
Was done by the Loreley.
Schutzenliesel
Heut' ist Schützenfest im goldenen Lamm,
|: Alle kommen z'samm, :|
Jeder Bua will heut sein Zwölfer ha'm,
|: Jeder nimmt sich z'samm. :|
Freibier krieg'n die Schützen
Und die Madeln einen Kuß.
Achtung unser Bürgermeister
Tut den ersten Schuß!
Wenn die Stimmung dann am höchsten ist,
|: Drin im goldnen Lamm. :|
Wenn mei Liesel dann ein' andren küßt,
|: Hau i alles z'samm. :|
Aus ist's mit dem Freibier
Schreit der Wirt uns laut in's Ohr.
Und noch beim Nachhausewandern
Singen wir im Chor:
Refrain:
Schützenliesel, dreimal hatt's gekracht
Schützenliesel, du hast mir das Glück gebracht
Schützenliesel, dafür dank' ich dir!
Jetzt bin ich der Schützenkönig
Und du bleibst bei mir!
Immer wenn du dich jetzt küßen läß
Denk ich an das Schützenfest!
Sag Danke Schon mit Roten Rosen
REFRAIN

Sag' Dankeschoen mit roten Rosen zu Deiner Frau so ab und zu einmal.
Sag' Dankeschoen mit roten Rosen. Sie wird versteh'n, Du wirst schon seh'n.

Hast Du schon mal nachgedacht, und ist Dir klar, was sie so alles tut
das ganze Jahr? Sie ist Deine gute Fee tagein, tagaus.
Sie zieht die Kinder gross und kuemmert sich ums Haus.

REFRAIN
Sag' Dankeschoen mit roten Rosen zu Deiner Frau so ab und zu einmal.
Sag' Dankeschoen mit roten Rosen. Sie wird versteh'n, Du wirst schon seh'n.


Kommst Du von der Arbeit heim - oft ist es spaet,
dann wartet sie auf Dich. Fragt, wie's Dir geht.
Und gab es auch ab und zu 'mal einen Krach, sie war die Kluegere
und gab so oft schon nach.

REFRAIN

Sag' Dankeschoen mit roten Rosen zu Deiner Frau so ab und zu einmal.
Sag' Dankeschoen mit roten Rosen. Sie wird versteh'n, Du wirst schon seh'n.
Sie wird versteh'n, Du wirst schon seh'n.
ENGLISH TRANSLATION
Refrain
Say ' thank you with deep red roses, to your wife once and a while. (now and then)
Say ' thank you with deep red roses. She will understand, you just wait and see.
Have you ever thought and it is clear to you what all she does year-round? She Is your sweatheart, day in, day out.
She takes care of the children and takes care of the house.
Refrain
You come home from work - often it is late, she waits for you and asks how your day went.
And there was often a time for arguments, but she was the smarter and often gave in to you.
Refrain
Sag Dankeschön mit roten Rosen – with Chords Tempo: 96 / Tonart: G
(Andreas Hauff)
[INTRO:]
D G C G
- - - -
[REFRAIN:]
D7 G D7 G
Sag' Dankeschoen mit roten Rosen zu Deiner Frau so ab und zu einmal.
D7 G D7
Sag' Dankeschoen mit roten Rosen. Sie wird versteh'n,
G C G
Du wirst schon seh'n.

[VERS-1:]

D7
Hast Du schon mal nachgedacht, und ist Dir klar, was sie so alles tut
G G7 C
das ganze Jahr? Sie ist Deine gute Fee tagein, tagaus.
D7 G Am7 D7 G C G
Sie zieht die Kinder gross und kuemmert sich ums Haus.

--> REFRAIN:...

[INTERLUDE:]
D7 G C G
- - -

[VERS-2:]

D7
Kommst Du von der Arbeit heim - oft ist es spaet,
G
dann wartet sie auf Dich. Fragt, wie's Dir geht.
G7 C D7 G
Und gab es auch ab und zu 'mal einen Krach, sie war die Kluegere
Am7 D7 G C G
und gab so oft schon nach.

--> REFRAIN:...

[ENDING:]

G D7 G D7 G
Sag' Dankeschoen mit roten Rosen zu Deiner Frau so ab und zu einmal.
D7 G D7
Sag' Dankeschoen mit roten Rosen. Sie wird versteh'n,
G C G D7 G
Du wirst schon seh'n. Sie wird versteh'n, Du wirst schon seh'n.
Der Vogeltanz - The Chicken Dance
Do you wanna feel good?
Lets laugh and play
Wanna have some fun?
Throw your blues away.
Are you feelin' sad?
Got a problem, here's the cure:
Do the Chicken Dance,
Make you happy for sure.
But here's how some do it.
I don't wanna be a chicken,
I don't wanna be a duck,
so I shake my tail
Clap, clap, clap, clap.
Dance steps
The "Chicken Dance" song is accompanied by a dance requiring a group of people, and it goes as follows:
| | |
| --- | --- |
| | At the start of the music, shape a chicken beak with your hands. Open and close it four times, during the first four beats of the music. |
| | Make chicken wings with your arms. Flap your wings four times, during the next four beats of the music. |
| | Make a chicken's tail feathers with your arms and hands. Wiggle downwards during the next four beats of the music. |
| | Clap four times during the next four beats of the music. |
| | Repeat this process four times. |
| | At the bridge, hold your arms straight, in imitation of an airplane. All dancers spun around the room in "flight" until the bridge ends. |
| | (Alternately: At the bridge, link arms with the nearest person, turn right eight steps, switch arms and turn left eight steps, then repeat until the bridge ends) |
| | The dance repeats, progressively getting faster and faster, until the music stops. |
TANTE ANNA
REFR.: Tante Anna, Tante Anna, du bist die schönste Frau der Welt
(..so wie du gebaut bist)
Tante Anna, Tante Anna, du bist die FRau die mir gefällt!

2. Wer putzt die Zähne mit Urbin*? Tante Anna!
Wer trinkt zum Frühstück Glycerin? Tante Anna!
Wer putzt die Schuhe mit Odol**? Tante Anna!
Wer parfumiert sich mit Benzol? Tante Anna!

REFR.:..........

3. Wer hat noch keinen Mann geküßt? T.A..
Wer weiß noch nicht was Liebe ist? T.A...
Doch solltest du als Jungfrau sterb´n (..that means "sterben"),
dann laß mich dein Vermögen erb´n ( that means "erben") T.A.

Refr......

4. Wer lutsch im Winter Speiseeis? T.A!
Wer ißt im Sommer heißen Reis? T.A!
Wer ruft im Herbst "der Lenz ist da"? T.A!
Und schielt dann nach dem Opapa? T.A!

REFR:: T.A. and so on!
* Urbin gab es früher Mittel zum Schuheputzen!
** Odol ist etwas zur Mundpflege!